Watch: PM Boris Johnson pledges new high-speed Manchester-Leeds railway line
Comments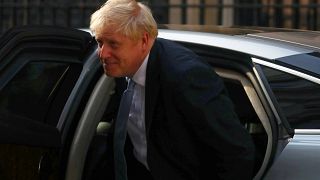 New UK prime minister Boris Johnson has announced his government will fund a new high-speed rail route in the north of England.
It will link the cities of Manchester and Leeds and reduce the journey time between them from 50 minutes to under 30.
"I want to be the PM who does with Northern Powerhouse Rail what we did with Crossrail in London", said Johnson in Manchester on Saturday as he announced plans to "turbo-charge" growth in the region.
"And today I am going to deliver on my commitment to that vision with a pledge to fund the Leeds to Manchester route."
The new Trans-Pennine rail route is the first in a series of new intercity routes, Johnson said. He promised £3.6bn spending for "deprived towns", with 100 towns to be put to the test.
"If we want people to express their talent properly, then you need proper connectivity, it's an absolutely crucial point", Johnson said.
"I want to unite our country and to level up", he added.
The details of the new rail route will be announced in the autumn, after the project for HS2, a high-speed rail between London and the Midlands, is reviewed.
"It will be up to local people and us to come to an agreement on the exact proposal they want – but I have tasked officials to accelerate their work on these plans so that we are ready to do a deal in the autumn," Johnson said.
"Feel free to applause", the new PM said at the end of his speech, which was met with silence from the audience.
The British political opposition Labour party responded to Johnson's plan by describing as a "cheapskate refurb of existing lines", "not even a half measure and not worth clapping".
"This is sadly once again another Tory Prime Minister coming to the North with nothing new", the shadow transport secretary, Labour's Rachael Maskell, said in a statement.
"There is no timeline, no linking of northern towns, just more vague promise of a skeleton line, and a rehash of the insulting level of investment for the region."
The new British PM also addressed the Brexit negotiations with the EU in his Manchester speech, saying that the backstop should be removed from the EU-UK Brexit deal, or the UK would favour a no-deal scenario.
"I do not want a no-deal Brexit, that is not where we're aiming," Johnson said. But he went on: "If we get rid of the backstop, whole and entire, then we'll make a lot of progress. That would be my answer."
He said the backstop is "anti-democratic" and "seeks to divide the UK", adding: "We need to get it out and then we can make progress."
You can watch Johnson's speech again in the video player, above.