Boris Johnson has got the Brexit band back together — will they succeed?
Comments
By Alexander Smith with NBC News World News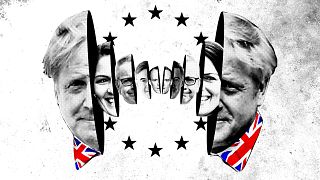 Copyright

Adam Maida for NBC News

-
LONDON — For the first time in Britain's tortuous Brexit saga, the true believers are running the show.
Boris Johnson became prime minister this week with a sweeping purge of the Cabinet and bringing in his own cast of Brexit hard-liners.
No sooner had he swept into No. 10 Downing St., Johnson started getting the band back together. His inner circle now bears a striking resemblance to the one that led the original 2016 Brexit referendum campaign to leave the European Union.
Some of these "euroskeptic" crusaders flanked Johnson in Parliament on Wednesday, cheering him on as he gave his first speech to the House of Commons.
"Our mission is to deliver Brexit," the prime minister said in his trademark blustering style, which supporters say masks a sharp intellect. Leaving the E.U., Johnson promised, would help make "this country the greatest place on Earth."
So the Brexiteers finally own Brexit, taking the helm of the revolution they started three years ago. But will they fare any better than Theresa May, the former prime minister whose efforts ended in failure and humiliation?
Johnson will face many of the same intractable obstacles she did, and some commentators believe he will struggle to leave the E.U. on the current divorce date of Oct. 31. With that in mind, one theory is that the prime minister has built his team to trigger and win an early general election as soon as this fall.
"I think that strategy is entirely conceivable because it's hard to see what else he can do," said Anand Menon, director of The U.K. in a Changing Europe, a London-based think tank.
For years, Johnson and his allies criticized May, who repeatedly failed to persuade British lawmakers to support the plan she negotiated with Europe. As the Brexiteers often reminded her, she was a convert, campaigning in the 2016 referendum to remain in Europe, only switching sides later on.
During the race to replace her, Johnson said he was willing to take the United Kingdom out of Europe without a deal, a commitment many experts decry as reckless in that it could lead to economic catastrophe, and shortages of food, medicine and basic supplies.
Johnson caused uproar across the political spectrum by suggesting he could force through this "no-deal" Brexit by temporarily suspending Parliament — a radical departure from democratic norms.
Once in power, he orchestrated what was one of the most brutal Cabinet reshuffles in decades, with 17 out of 30 ministers either being fired or jumping before they were pushed.
"This wasn't just a change of personnel, this was a regime change," Tim Bale, a politics professor at Queen Mary University of London, said. "The way it was done and the extent of the culling really was intended to make it clear to the public that there's a new kid in town who is going to do things very differently."
Nick Boles, who quit as Conservative lawmaker in April, went further, telling the BBC on Thursday that, "what this establishes beyond all doubt is that the Conservative Party has now been fully taken over, top to bottom, by the hard right."
Johnson's new foreign secretary is Dominic Raab, who resigned as May's Brexit chief last year because he said her deal was too soft. He's perhaps better known for once calling feminists "obnoxious bigots."
The new interior minister is Priti Patel, another staunch Brexiteer, who at one time wanted to bring back the death penalty — an outlier opinion in Britain, which abolished capital punishment in 1965. She was forced to resign from a previous government role in 2017 after holding undisclosed meetings with Israeli officials while saying she was on vacation.
Michael Gove, who campaigned alongside Johnson in 2016, is in charge of "no-deal" preparation at the Cabinet Office. And Dominic Cummings, the cerebral, eccentric director of the Brexit campaign, who was played by Benedict Cumberbatch in a recent TV dramatization, is Johnson's de facto chief of staff.
The only "remainer" given a top job is the new chancellor of the exchequer, Sajid Javid, whose job it is to run the economy. But he now supports leaving the E.U., too.
The Cabinet has been praised for its racial diversity. Patel and Javid both have parents who emigrated to Britain in the 1960s, from Uganda and Pakistan respectively.
There are plenty in Johnson's team who did vote to remain in the referendum, but most were given minor roles.
They have less than 100 days to negotiate a new Brexit deal. May's plan took 18 months to thrash out, and European officials have said repeatedly it's their final offer.
If Johnson were to persuade the Europeans to change their minds, perhaps deploying the charisma his supporters adore, his next problem would be the British Parliament, which has so far blocked every course of action available.
Johnson's Conservatives are in a fragile position, governing with a majority of just three in the House of Commons. Perhaps not the best time, some have suggested, to fire more than a dozen moderates from his Cabinet, some of whom have already pledged to thwart Johnson's stated willingness for "no-deal."
By purging so many members of May's team, Johnson "may be making a rod for his own back," Meg Russell, a politics professor at University College London, said. "They will now have the freedom to vote against his policy."
"The hard-Brexit supporters are at one end of an ideological spectrum," Russell added. "But the people who he's fired are more centrist, and it's much, much easier for those people to join forces with the opposition."
These realities have led some to wonder whether Johnson is in fact not really focused on Brexit, but instead is preparing to call an early election.
Johnson knows he faces two major obstacles: European officials who say they won't budge on May's deal, and British lawmakers who won't let him leave without one.
Casting himself as a man "standing up for the British people" against these "twin evils" might be a potent electoral message, Phil Syrpis, a professor of E.U. law at Bristol University, said in a series of tweets.
Through this prism, Johnson's assembled band of Brexit devotees perhaps begins to make more sense.
In an election, they might prove effective at swallowing up millions of votes from those who voted to leave Europe three years ago. That would also effectively neutralize the Brexit Party, lead by Donald Trump favorite Nigel Farage, which has threatened to outflank the Conservatives from the right.
It might also steal a march on the opposition Labour Party, which is often criticized as having a confusing policy on Brexit, and other pro-E.U. parties who might split one another's votes.
The winner of any election would have almost no time to do anything before the Brexit deadline. It's far from certain that the 27 remaining E.U. leaders would grant Britain yet another extension, following 11th hour postponements in March and April.
"God knows what an election would do to the Brexit timetable," Menon, who is also a professor at Kings College London, said.