Watch: Climate change protesters bid to stop incoming PM Boris Johnson
Comments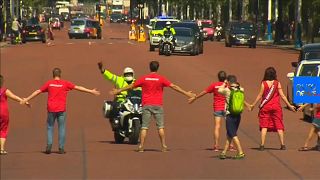 Climate change protesters blocked the road as incoming Prime Minister Boris Johnson travelled to meet the Queen.
The demonstrators, dressed in red, formed a human chain as the vehicle carrying Johnson headed towards Buckingham Palace.
They unfurled a banner reading "Climate Emergency" and stopped a police motorcyclist at the front of the convoy.
But a police officer, approaching from behind the protesters, succeeded in moving them from the road.