President Donald Trump imposes new sanctions on Iran, freezes billions
Comments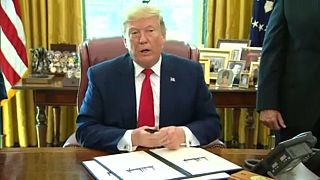 One signature from Donald Trump is enough to freeze billions of dollars worth of Iranian assets in international financial institutions.
The US president issued an executive order targeting a handful of figures within Iran's leadership, imposing sanctions on the Supreme Leader of the Islamic Republic of Iran, Ayatollah Khamenei, and a slew of senior commanders in Iran's Islamic Revolutionary Guards Corps (IRGC), as well as Iran's foreign minister Mohammad Javad Zarif.
"We are not in the business of succumbing to pressure. The US has been applying pressure against Iran and today we witnessed that they have added more sanctions, so nobody who is of a clear mind can accept to have a dialogue with somebody who is threatening you with more sanctions," said Majid Takht-Ravanchi, Iran's permanent representative and ambassador to the United Nations.
Iran's foreign minister Mohammad Javad Zarif in a tweet accused the US of having a "thirst for war" and said the US military has no business in the Persian Gulf.
Meanwhile, US Secretary of State Mike Pompeo continued his tour of the Middle East, with his first stop in Saudi Arabia, followed by the United Arab Emirates. The aim, according to the State Department, is to create a safe corridor for ships sailing in the Persian Gulf.
Speaking to journalists, Mr Pompeo talked of a preventative intercept plan with the participation of different allied nations that he did not name.
President Trump withdrew from the Iran nuclear deal in 2018 and reimposed sanctions on the country in November.
The nuclear deal had lifted crippling sanctions in exchange for imposing limits on Iran's nuclear programme.
The US hopes ever-increasing economic pressure will force Iran to give up its ambition for nuclear weapons, but Tehran has waved away the measures as "useless".