Fridays for Future climate protesters in Aachen call for action now
Comments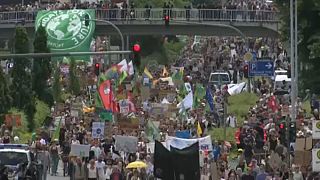 Around 20,000 protesters from 15 countries rallied in the western German city of Aachen as part of a student movement demanding bold action to combat climate change and their message was "time is running out".
Many of the so-called "Fridays for Future" demonstrators carried signs and banners with slogans including "your greed costs us our future," ''climate justice: that's what we want," and "If Earth was a bank, you would have rescued it long ago."
"There is a feeling of community and fighting spirit as we all have the same aim. We are under intense time pressure," one protester said.
"I am a worker, I used to work in the steel industry and in the end I worked in the chemical industry. Everyone has to make a living, but everyone must also be able to breath, to eat clean foods and to have clean air. That's why I'm here," another activist said.
For the past year, students across Europe and other parts of the world have taken part in in weekly protests in a bid to pressure governments into taking major steps to curb CO2 emissions and halt climate change.
The movement was triggered by teenage Swedish activist Greta Thunberg who protested outside Sweden's parliament to demand immediate action on climate change.
Many activists accuse Germany of not doing enough to tackle climate change, and urge Berlin to start winding down coal consumption and implement more progressive policies to become CO2 neutral in the near future.