Bernie Sanders lashes out at Donald Trump as presidential race hots up
Comments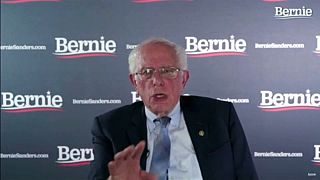 As the race for the Democratic nomination for the 2020 presidential election hots up, Bernie Sanders didn't pull any punches as he lashed out at Donald Trump, saying the US President's first pre-election speech was filled with "lies, distortions and utter nonsense".
"We have a President who is a racist, who is a sexist, who is a homophobe, who is a xenophobe and he is a religious bigot. And his strategy to win re-election is to divide the American people up, based on the colour of our skin, based on where we were born, based on our religion, based on our sexual orientation. And our job is not to allow him to do that," said Bernie Sanders.
According to public opinion polls, Bernie Sanders is in second place behind Joe Biden, among more than 20 hopefuls for the Democratic nomination for the 2020 US presidential elections.