Iran says U.S. resident convicted of spying in closed-door trial will be released
Comments
By Dan De Luce and Associated Press with NBC News World News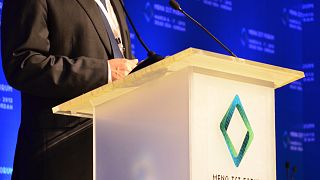 -
Copyright

Courtesy of Friends of Nizar Zakka group via AP
Iran said Tuesday it will release a Lebanese man with permanent U.S. residency who has been imprisoned since 2015 on spying charges that his family has dismissed as baseless.
IT expert Nizar Zakka, 52, was arrested in Tehran in September 2015 after being invited by the Iranian government to attend a conference. He had been living in Washington, D.C.
Iranian judiciary spokesman Gholamhossein Esmaili said Tuesday that Iran will hand Zakka over to Lebanese officials. The comment was the first official confirmation that Zakka would be sent back to Lebanon.
The U.S. had protested his imprisonment and called for his release.
With tensions rising between Tehran and the Trump administration, and as U.S. sanctions squeeze the Iranian economy, Zakka's release could signal a potential opening in the standoff.
The move comes against the backdrop of a flurry of diplomatic activity by U.S. allies aimed at lowering the temperature between the two adversaries. German Foreign Minister Heiko Maas met his Iranian counterpart on Monday in Tehran and Japan's Prime Minister Shinzo Abe was due to fly to Tehran on Wednesday.
It's unclear if Zakka's release could open the door to the release of other foreigners held by Iran, including several Americans.
Although Iran in recent weeks has portrayed Zakka's case as an issue between Iran and Lebanon, Iranian Foreign Minister Javad Zarif in 2016 said it was a problem primarily between Tehran and Washington. The Trump administration has cited the imprisonment of foreigners as one of a number of practices and policies that Tehran must stop to open the way for negotiations and an end to sanctions.
Zakka ran the Arab ICT Organization, an industry consortium that promotes information technology and internet freedom in Arab countries. Zakka was arrested on the way to the airport by Iran's Revolutionary Guard and was later sentenced to 10 years in prison on espionage charges in a closed-door trial.
News
In an interview last year, an adviser to Iranian President Hassan Rouhani, Shahindokht Molaverdi, expressed regret at Zakka's imprisonment after she invited him to a conference and blamed it on the hard-line judiciary and limited authority of the civilian government.
"This is in no way approved by the government," Molaverdi told the Associated Press. "We did all we could to stop this from happening, but we are seeing that we have failed to make a significant impact."
Zakka's family and human rights groups have dismissed the allegations as without any foundation.
At least 11 dual and foreign nationals, or Iranian citizens with foreign residencies, not including Zakka, are imprisoned in Iran as of this month, according to the Center for Human Rights in Iran.
Those imprisoned include Siamak Namazi, an Iranian-American businessman, and his elderly father Baquer Namazi, a former UNICEF official; Xiyue Wang, an American graduate student from Princeton University; Morad Tahbaz, who has U.S., British and Iranian citizenship and was detained along with other environmental activists; and Michael White, a U.S. Navy veteran.
In early May, the U.S. ramped up economic pressure against Iran, threatening sanctions against any country that imports Iranian oil.
Zarif said Monday that the U.S. could not "expect to stay safe," after launching what he called an economic war against Iran.
"Whoever starts a war with us will not be the one who finishes it," Zarif said at a news conference with Maas.
News
Iran threatened in late May to quadruple their production of enriched uranium unless Europe found a way to provide economic relief from U.S. sanctions.
One year after the U.S. withdrew from the Iran nuclear deal, Maas traveled to Tehran to try to rescue the accord from failing entirely.
The head of the U.N.'s International Atomic Energy Agency, Yukiya Amano, said Monday that Iran has in recent weeks increased its production of enriched uranium. But he said it was unclear when the country's stockpile would surpass the set limits of the deal and expressed concern about the increased tension surrounding the issue.
State Department spokesperson Morgan Ortagus said the increased production shows that "Iran is going in the wrong direction, and it underscores the continuing challenge Iran poses to international peace and security."