Australian opposition leader concedes defeat to Prime Minister Scott Morrison
Comments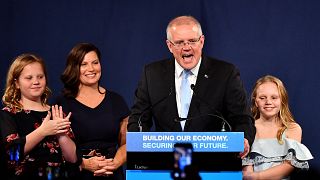 Australian opposition leader Bill Shorten conceded to conservative Prime Minister Scott Morrison late Saturday evening, saying his Labor Party would not be able to form a government, handing the ruling coalition a surprise third term.
Morrison's Liberal-National coalition came close to a majority in the 151-seat House of Representatives, where parties need a majority to form a government.
Polls and bookmakers were predicting Shorten's Labor Party would return to power but a shock result will see the conservatives stay in office where they have been since 2013.
"And without wanting to hold out any false hope, while there are still millions of votes to count and important seats yet to be finalised, it is obvious that Labor will not be able to form the next government," Shorten told disappointed supporters at a function in Melbourne.
His centre-left campaign mainly focused on the issues of climate change and tax reform.
Morrison's centre-right coalition struggled in opinion polls leading up to the election, with critics voicing concerns about instability and party infighting but was it was still able to claim a surprise victory.
Voting is compulsory across Australia, meaning a high proportion of the 17 million eligible voters were expected to turn out for this election.
Although Labor was expected to do much better, some polls indicated Morrison had narrowed Labor's lead during the campaign. Many voters were still angry about the ousting of his socially moderate predecessor, Malcolm Turnbull, in a backbench revolt last August.
While polls show most Australians are in favour of stronger action to tackle climate change, Morrison's coalition supports the coal industry.
He has pledged to meet Australia's commitment under the Paris Accord to reduce greenhouse gas emissions by between 26% and 28% but said more ambitious targets would damage the economy. Meanwhile, Shorten promised to cut emissions by 45% by 2030 if elected.
Vote counting will continue on Sunday.