Macron brings in big guns to bolster lagging Euro election campaign
Comments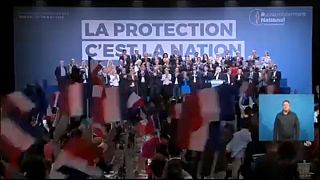 French Prime Minister Édouard Philippe has been urgently called upon to help Nathalie Loiseau, the head of President Emmanuel Macron's European parliamentary election group, in the inauguration of her pre-election campaign after revelations that during her student years she took part in a far-right organisation.
Loiseau put Macron's La Republique en Marche party in a difficult position, as the French President had presented her as the absolute opponent of the nationalistic National Rally party.
At the same time, the Republicans, headed by François-Xavier Bellamy, want to exploit this.
"The aim of their campaign is to defeat National Rally. The only thing they want to do is to argue with each other. Our aim is to resolve the problems of French people," said Bellamy.
Manon Aubry, the head of the Euro-list for Jean-Luc Mélenchon's leftist La France Insoumise party, has a different opinion and says that the real problem is the French President himself.
"We feel that these elections have been seized and we have to stop that. It's been turned into a polarity, which, to be honest, has nothing to do with polarity. Emmanuel Macron and his party are saying: 'It's either us or chaos'. But now we have both Macron and chaos," she said.
On the other side, for the Greens the political confrontation within the country's borders isn't so much at stake. And according to Yannick Jadot, the head of the Greens Euro campaign, the 26th of May really concerns the future of the European venture.
"For us, these elections are the polls of the century. For five years we have seen Europe disintegrate, with Brexit, Salvini, Orban and their exaggerations," he said.
The fact is that after two years since taking up the presidency, this year's Euro elections constitute an especially big and crucial test for Emmanuel Macron.