Violence erupts at Paris May Day march as protesters clash with police
Comments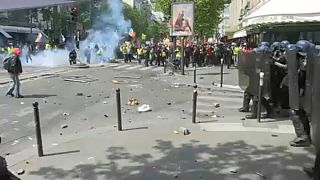 In a tense atmosphere, thousands of people protested across France to honour workers' May Day, with the capital city Paris becoming the stage for clashes between Black Block protesters and riot police.
French authorities had previously announced tight security measures for May Day demonstrations, with the interior minister warning that there was a risk that "radical activists" could join anti-government "gilets jaunes" ("yellow vest") protesters and union workers in the streets of Paris and across the country.
More than 7,400 police were deployed, aided by drones to give them an overview of the protests and a quicker way to head off potential violence.
The demonstration by unions in Paris was due to start at around 2.30 pm, but from 10 am yellow vest protesters had begun to gather at the front of the march.
Most clashes broke out near the start of the main May Day march near Montparnasse train station and started again at the end of the route near the Place d'Italie in southeast Paris as police tried to disperse stragglers. 
Around lunchtime, hundreds of anti-capitalism protesters, many of whom had their faces covered and were dressed in black, shouted anti-police slogans and threw various projectiles at security forces. Riot police responded with stun grenades and tear gas. One protester was injured in the head.
Authorities had told shops in the area to remain closed. Tensions were particularly high near the La Rotonde restaurant in Montparnasse, which had been blocked off so that it would not suffer the same fate as Fouquet, which was set alight on March 16. La Rotonde has been associated with President Emmanuel Macron and is said to be among his favourites as he had been there two years ago to celebrate the fact that he had passed into the second round of presidential elections.
Up until early afternoon, police had made more than 9,000 checks and 165 detentions.
Apart from Paris, there were peaceful demonstrations in many cities around France, including Montpelier, Nantes, Strasbourg and Bordeaux.