Sri Lanka: Pope Francis and world leaders react to bombings
Comments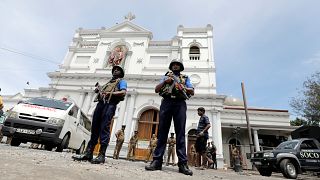 -
World leaders expressed solidarity with Sri Lanka on Sunday after 207 people were killed in seven bomb blasts targeting churches and hotels.
Three of the island's churches were hit by explosions as they celebrated Easter Sunday. Some 450 people were also injured in the attacks.
Religious leaders
Pope Francis told the thousands of people who gathered on St Peter's Square to hear his Easter Sunday message, that he "learned with sadness and pain of the news of the grave attacks, that precisely today, Easter, brought mourning and pain to churches and other places where people were gathered in Sri Lanka."
"I wish to express my affectionate closeness to the Christian community, hit while it was gathered in prayer, and to all the victims of such cruel violence.
"I entrust to the Lord those who have tragically died and I pray for the wounded and for all those who are suffering as a result of this dramatic event," he said.
The leader of the Anglican Communion, Archbishop of Canterbury Justin Welby, wrote on Twitter: "Those affected by the appalling and despicable attacks on churches and hotels in Sri Lanka will be in the prayers of millions marking Easter Sunday around the world today.
Ronald S Lauder, president of the World Jewish Congress — which represent over 100 Jewish communities worldwide — said that "world Jewry — in fact all civilised people — denounce this heinous outrage and appeal for zero tolerance of those who use terror to advance their objectives."
Asia/Oceania
Neighbouring countries were among the first to offer their condolences to Sri Lanka after the blasts were reported.
Indian Prime Minister Narendra, whose country is just 60 kms north of Sri Lanka, condemned the "horrific blasts" and said that "there is no place for such barbarism is our region."
Australian leader Scott Morrison said his country's "thoughts and prayers are with the beautiful people of Sri Lanka at this difficult time."
Jacinda Ardern, the leader of New Zealand, where 50 died last month after a gunman opened fire at two mosques, said the country "condemns all acts of terrorism, and our resolve has only been strengthened by the attack on our soil on the 15th of March."
"New Zealand rejects all forms of extremism and stands for freedom of religion and the right to worship safely," she added in a statement.
Prime Minister Imran Khan said Pakistan "stands in complete solidarity with Sri Lanka in their hour of grief."
Europe
Over in Europe, Jean-Claude Junker, the president of the European Union Commission, offered his "heartfelt condolences to the families of the victims who had gathered to worship peacefully or come to visit this beautiful country."
British Prime Minister Theresa May described the bombings as "truly appalling" and stated: "We must stand together to make sure that no one should ever have to practise their faith in fear.
Angela Merkel, Chancellor of Germany, sent her condolences to the people of Sri Lanka in a telegram in which she deplored the attacks as "shocking."
"The religious hatred and intolerance displayed so terribly today should not win," she also wrote.
French President Emmanuel Macron expressed "deep sadness after the terrorist attacks on churches and hotels in Sri Lanka."
"Terror and barbarity will never defeat us," Spanish Prime Minister Pedro Sanchez wrote on Twitter, also sending his "support and affection to all the victims and their relatives."
Recep Tayyip Erdogan wished " a speedy recovery to the injured" and offered "on behalf of the Turkish people" his condolences to the families of the victims and the people of Sri Lanka.
Russian President also announced that he had reached out to Sri Lankan President Maithripala Sirisena to offer his condolences.
Americas
Donald Trump sent his "heartfelt condolences" to the people of Sri Lanka in a tweet and said the US "stand ready to help."
Just north of the border, Canadian leader Justin Trudeau "strongly" condemned "the heinous attacks on Christians at churches and hotels."
In Brazil, President Jair Bolsonaro condemned the attacks, saying: "Even on this sacred day, extremism leaves traces of death and pain."
"May God comfort those who suffer now," he added.