Sri Lanka explosions: What we know so far
Comments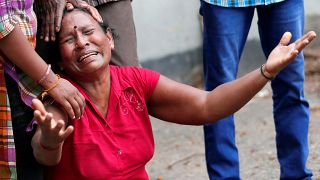 -
At least 359 people were killed and around 500 injured in multiple explosions at churches and hotels in Sri Lanka on Easter Sunday, according to officials. World leaders have labelled the bomb blasts as "terrorist attacks".
Here is what we know about the incidents.
What happened?
At least eight explosions, some of which were suicide bombs, were reported on Sunday morning across Sri Lanka.
Three churches in Negombo, Batticaloa and Colombo's Kochchikade district were targeted during Easter services.
Four hotels, all in the capital Colombo, were also struck. They include The Shangri-La, Kingsbury, Cinnamon Grand, and the Tropical Inn.
An eighth blast hit a house in Colombo. Police and media said that three officers were killed there and seven people were detained during a raid on the location.
Who is behind the attacks?
A local Islamist movement, the National Thowheeth Jama'ath (NTJ), was behind the bombings, Minister of Health Rajitha Senaratne said during a press conference on Monday.
But this was seemingly contradicted on Tuesday when so-called Islamic State (IS) claimed responsibility for the coordinated bombings. AMAQ, a news agency with links to IS, did not provide evidence to back up the assertion.
Little is known about the NTJ group, which was last year connected to acts of vandalism on Buddhist statues, according to AFP.
Police said they have arrested 40 people since Sunday and that the suspects were mainly Sri Lankans.
The government did not believe the attacks were carried out by "a group of people who were confined to this country", according to Senaratne.
"There was an international network without which these attacks could not have succeeded," he said.
President Maithripala Sirisena said he ordered the police special task force and military to investigate who was behind the attacks and their agenda.
The military was deployed and security was increased at Colombo's international airport, a military spokesman said.
The government had declared a curfew in Colombo and previously blocked access to social media and messaging sites, including Facebook and WhatsApp.
Prior knowledge of the attack
Prime Minister Ranil Wickremesinghe acknowledged that the government had some "prior information of the attack" but ministers were not told.
Authorities had warning two weeks before the bombings and had the names of attackers, but this information was not shared with the prime minister, Senaratne told journalists.
"On April 4, 14 days before these incidents occurred, we had been informed about these incidents," he said.
President Maithripala Sirisena is responsible for national security and intelligence, but tensions between him and Prime Minister Ranil Wickremesinghe are high.
"On April 9, the chief of national intelligence wrote a letter and in this letter, many of the names of the members of the terrorist organisation were written down," Senaratne said during the press conference at Temple Trees — the official residence of the prime minister.
"The prime minister was not informed by [sic] these letters and revelations," he added.
"We are not trying to evade responsibility but these are the facts. We were surprised to see these reports."The prime minister also said there now needs to be an inquiry into how the information was not shared and that the government needs to look at the international links of a local militant group.
AFP reported that it had seen documents showing the country's police chief issued an intelligence alert to top officers 10 days ago, warning that suicide bombers planned to hit "prominent churches".
The police chief cited a foreign intelligence service as reporting that a little-known Islamist group was planning attacks.
In pictures
What do we know about the victims?
Government officials said at least 32 of the victims were foreigners, with Europeans among those killed.
Eight British nationals were killed in the attacks, according to the Sri Lankan High Commissioner to the UK.
One Portuguese national, a Dutch citizen and three Indians also lost their lives, according to officials.
Denmark's richest man Anders Holch Povlsen and his wife lost three of their four children in the Easter Sunday attacks in Sri Lanka, a spokesman for Povlsen's fashion firm said.
Povlsen, 46, is the majority stakeholder in online retailer Asos and also holds a large stake in German online shopping site Zalando.
Dutch Foreign Minister Stef Blok said a Dutch citizen was also among the victims.
READ MORE: Sri Lanka bombings: Who are the victims?
How has the world reacted?
US President Donald Trump called the blasts a "terrorist attack" and said the country offered its "heartfelt condolences".
French President Emmanuel Macron said on Twitter "We are deeply saddened by the terrorist attacks", calling them "odious acts".
India's Prime Minister Narendra Modi wrote he "strongly condemned" the attacks in a Tweet.
Turkey's President Recep Tayyip Erdogan said the explosions were "an assault on all of humanity".
New Zealand's Prime MinisterJacinda Ardern said in a statement "collectively we must find the will and the answers to end such violence." The Sri Lanka attacks come after a mass shooting at two mosques in New Zealand last month, where 50 people were killed.
Pope Francis, addressing people in St. Peter's Square, said: "I wish to express my affectionate closeness to the Christian community, hit while it was gathered in prayer, and to all the victims of such cruel violence."
Christianity in Sri Lanka
According to the National Christian Evangelical Alliance of Sri Lanka, there were 86 verified incidents of discrimination, threats, and violence against Christians last year.
Christians make up 7.6% of the population, while 70% are Buddhist, 12.6% Hindu, and 9.7% Muslim are Muslim, according to Sri Lanka's 2012 census.
Bomb blasts in the capital Colombo were common a decade ago when Sri Lanka was at war with Tamil separatists. However, Sunday's attacks are the first major incident to hit the country since then.