After cyclone Idai, Mozambique needs help from the World Food Program
Comments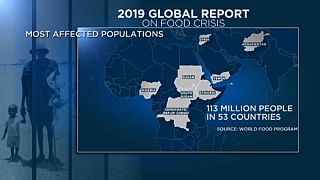 After cyclone Idai's devastating action, Mozambique becomes another setting for the World Food Program's relief operations. WFP, a United Nations agency, intends to reach 1.7 million people in the coming months.
According to the 2019 Global Report on Food Crisis, the main causes of acute hunger and food insecurity were:
- conflict: 74 million people affected
- climate: 29 million people affected
- economic shocks: 10 million people affected
A concern in the 2019 Global Report on Food Crisis, which does not include Mozambique, is most of the 113 million people experiencing acute hunger are living in just five countries in Africa (Democratic Republic of Congo, Ethiopia, Sudan, South Sudan and Nigeria).
Nonetheless, the worst crisis is in Yemen. Afghanistan and Syria are also in the top eight countries listed by WFP, making Western Asia and the Middle East the second most affected region.
WFP advises the international community to step up efforts to end conflicts, empower women and improve rural infrastructure.
The UN agency warns that more humanitarian aid to improve food security has to be part of the policies to avoid uncontrolled migratory flows.
In the past decade, funds available for international humanitarian aid have risen 127%, with 40% relating to agricultural products and other foods.