UN warns of looming famine in Yemen
Comments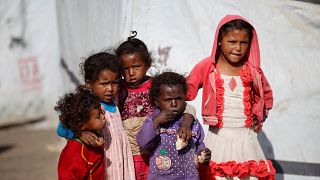 A senior UN aid official has urged both sides in Yemen's civil war to allow more access to the country's ports to let food, fuel and medicines in.
Stephen O'Brien said Yemenis themselves have to ensure that aid from international donors is reaching the estimated seven million people now facing severe food shortages.
O'Brien, who is the UN's Emergency Relief Coordinator, warned of a looming famine if their needs are not met.
He has met with the Houthi movement in the capital, Sanaa.
He was planning to visit the flash point city of Taiz on Tuesday, but UN sources say his convoy turned back due to security concerns.
In tweets
Glad to start my mission to #Yemen with 1st #UNHAS flight to #Aden. Partners are stepping up pic.twitter.com/lADKPkZf1n

— Stephen O'Brien (@UNReliefChief) 26 février 2017
Visiting and talking to families affected, often displaced, in #Aden's Qateea'a neighbourhood #yemenkidspic.twitter.com/x7jb8lyiIB

— Stephen O'Brien (@UNReliefChief) 26 février 2017
Met #IDP children&parents at AbdoGhanem school in #Aden. Our partners are providing help in education,water,sanitation, shelter, protection pic.twitter.com/lton81nkDl

— Stephen O'Brien (@UNReliefChief) 26 février 2017
Meeting Governor of #Ibb, #Yemen: "after two years, there is nothing left for the most vulnerable. Urgent need for food, medicines and fuel" pic.twitter.com/7KI8DQdsL0

— Stephen O'Brien (@UNReliefChief) 27 février 2017
Today I met Mariam (left), 13, and her siblings displaced from Taizz city. She is now head of household, depending on random handouts. pic.twitter.com/47EU5P89Bl

— Stephen O'Brien (@UNReliefChief) 28 février 2017
Sundus suffers from malnutrition & chest infection- it's a vicious circle of malnutrition, disease & death here.We cannot allow this. #Yemenpic.twitter.com/34O7ngLSxi

— Stephen O'Brien (@UNReliefChief) 28 février 2017
Why is the situation so bad?
Because of Yemen's civil war.
The country has been divided by nearly two years of conflict, pitting the Iran-allied Houthi group against a Western-backed coalition led by Saudi Arabia.
Fighting in or near ports hampers access for aid coming from outside.
The numbers (from the UN):
3.3 million people Yemenis acutely malnourished
2.1 million children among them
460,000 children under five and at risk of mortality



The best way to prevent famine in #Yemen is PEACE. pic.twitter.com/AjEyjbsgsG

— George.khoury.un (@GeorgekhouryUN) 28 février 2017





The situation at the ports





Earlier this month, the UN said Saudi-led coalition air strikes on the port of Hodeidah had hampered humanitarian operations to import vital food and fuel supplies.

Hodeidah serves territory controlled by the Houthis.

Five cranes have been destroyed. This means dozens of ships are having to lie offshore as they cannot be unloaded.




#Yemen Saudi-coalition declared #Hodeidah a military zone as of 1000hrs LT 13 Feb. Residents urged to stay indoors. pic.twitter.com/6aKlHIdo7T

—

EOS

Risk Group (@EosRisk) 14 février 2017





What is the UN asking for?





2.1 billion US dollars to provide food and other live-saving aid.

The organisation says Yemen's economy and institutions are collapsing and its infrastructure has been devastated.

Only $90 million of funding has been recieved so far out of $5.6 billion needed this year alone for humanitarian operations in Nigeria, Somalia, South Sudan and Yemen, according to UN Secretary General Antonio Guterres.




.antonioguterres</a> appelle à une action urgente contre la famine au Soudan du Sud, Yémen, nord-est Nigéria & Somalie <a href="https://t.co/M9fieNzb6x">https://t.co/M9fieNzb6x</a> <a href="https://t.co/TWtYeQOFSJ">pic.twitter.com/TWtYeQOFSJ</a></p>&mdash; Nations Unies (ONU) (ONU_fr) 22 février 2017





What are other aid organisations saying?





That the "lifeline" of aid moving through the port, as well as others like it, is starting to be cut as the conflict moves north up the Red Sea coast.

There is concern about the fate of an estimated 500,000 people in Hodeidah.

"In terms of reserves, there is enough for two, three or four months. There is an urgent need for re-supply," International Committee of the Red Cross (ICRC) regional director Robert Mardini told reporters in Geneva.





What they are saying





"The international community needs to step up its funding and the parties to the conflict need to continue providing humanitarian access. This also means access to the ports so that the needed imports can enter Yemen," Stephen O'Brien told reporters on a visit to Aden.