Theresa May not ready to hold third meaningful vote on Brexit
Comments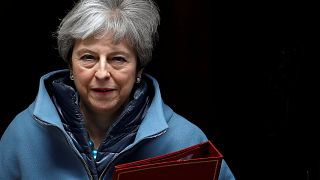 Copyright

REUTERS/Peter Nicholls
UK Prime Minister Theresa May has said she is not ready to bring a meaningful vote on the Withdrawal Deal to House of Commons for a third time as she believes there is "still not sufficient support" for it.
She was addressing the House of Commons after a weekend of crisis talks with her Cabinet and members of her party following the EU27's decision to grant her a short extension until 22 May on the condition she gets the Withdrawal Agreement through Parliament.
If she cannot get MPs to ratify the deal, which has already been defeated twice, the UK will either crash out of the European Union on April 12 without a deal or be forced to register for the European Parliamentary elections in May and commit to a longer extension.
She said she knew her Brexit deal was a "compromise" but stressed that if MPs backed it they would be out of the EU within two months with no more extensions.
But today she warned she would not allow the UK to leave the EU without a deal unless Parliament approved it so a long extension would be inevitable if they did not back it.
Labour Leader Jeremy Corbyn said the government's approach to Brexit was "a national embarrassent" and accused May of "recklessness" by asking for a short extension of Article 50 against the advice of her own Cabinet.
What will Parliament do next?
MPs voted on Monday night on a series of amendments to a neutral government motion on Brexit.
They succeeded in wrestling control of House of Commons business from the government on Wednesday, paving the way for parliament to hold a series of non-binding votes on which next steps it would like the government to take.
It means parliamentary time will be allowed for a series of "indicative votes" which would mean MPs voting on a series of measures which they want the government to take such as a long-extension to Article 50 to avoid no-deal and for a second referendum.
May said the Government would vote against the indicative votes amendments as she believed they would set an "unwelcome precedent" where Parliament could overrule the government.
The Scottish National Party's (SNP) Westminster Leader, Ian Blackford, urged Parliament to "take back control" of the process saying the people were "ashamed" of the government.
He asked May to respect the will of Parliament and said if the votes of MPs did not count then her Government would be committing "an assault on democracy".
Is no-deal still on the table?
Officially yes. Speaking in the House of Commons May reiterated that the default legal position is that the UK will leave the EU on 12 April.
Several Remain supporting members of the Cabinet, including Work and Pensions Secretary Amber Rudd and Business Secretary Greg Clark, have indicated they would resign if such an outcome becomes inevitable.
Earlier this month, MPs voted 321 to 278 on an amended motion which would take the prospect of no-deal off the table but it is not binding as it would mean the EU27 would have to agree to continue extending Article 50 until a deal is secured or for MPs to accept the deal currently on offer.
In practice, the deal must be ratified by the UK parliament by 29 March in order to avoid no-deal on 12 April.
In a statement on Monday, the European Commission said no-deal was "increasingly likely" and urged "all EU citizens and businesses" to "complete their Brexit preparedness".