Brexit delay: MPs vote to put back UK's departure from EU by at least three months
Comments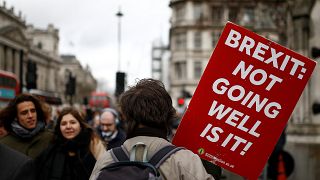 British MPs have voted in favour of a delay to the UK's March 29 departure date from the European Union with 412 votes to 202.
The government motion specifically states UK Prime Minister Theresa May will seek a technical extension to Article 50, moving the deadline day to June 30, providing MPs pass her deal in parliament next week.
If her deal is rejected for a third time, May will seek a lengthier extension from the EU, which would see the UK participate in the upcoming European Parliament elections.
It has been a tumultuous week for the UK's divorce proceedings from the EU, with MPs rejecting UK Prime Minister Theresa May's Brexit deal for a second time on Tuesday.
The following day, MPs returned to debate and vote on whether the UK should leave the EU without a deal.
This was also rejected.
READ MORE: British MPs vote to take no-deal off the table
May then tabled a motion for MPs to decide whether the March 29 deadline should be extended, which is what is happened today.
She said if MPs could agree on a Brexit deal next week she would seek an extension on the UK's departure date to June 30. If MPs are still unable to agree a deal, she would seek a lengthier extension, which would see the UK take part in the upcoming European Parliament elections.
European Council President Donald Tusk said he would appeal to the 27 heads of EU states to prepare for the latter.
Ahead of tonight's vote on the motion to extend Article 50, there will be a series of other polls on tabled amendments.
But what are they?
Amendment H: a second referendum
Tabled by Sarah Wollaston, a former Conservative Party politician now sitting with the Independent Group, this amendment requests the government seeks an Article 50 extension in order for the UK to hold a second referendum.
However, this amendment was criticised by supporters and campaigners of a second referendum.
The Labour Party, which has said it will back a second referendum, encouraged MPs to vote against the amendment in tonight's session, preferring instead to focus on the issue of the Brexit delay.
This sentiment was echoed by the People's Vote UK, a group lobbying for a second referendum, which also maintained that Thursday was not the day for this conversation.
Despite the criticism, Wollaston stood by tabling her amendment, likening the waiting for a discussion on a second referendum as a "bit like Waiting for Godot."
Amendment I: MPs take parliamentary control
This amendment, tabled by Labour MP Hilary Benn, requests the government allow MPs take parliamentary control in order to "find a way forward that can command a majority support."
This could include a series on non-binding indicative votes, and would allow parliament to deduce differing levels of parliamentary support for various Brexit policies.
Amendment E: 'a different approach'
An amendment tabled by Labour Leader Jeremy Corbyn requests the government seeks an extension to Article 50 in order to explore a "different approach."
This suggests a total rejection of May's Brexit deal.
Amendment J: No more meaningful votes
Labour MP Chris Bryant tabled this amendment, which aims to prevent Theresa May putting her Brexit it deal to a third meaningful vote.
Ahead of tonight's vote, MPs are debating the aforementioned amendments in the House of Commons.