European Aviation Safety Agency grounds all Boeing 737 MAX aircraft
Comments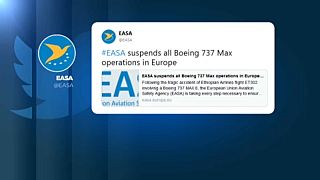 The European Aviation Safety Agency (EASA) has decided to ground all Boeing 737 MAX aircraft following the fatal crash of an Ethiopian Airlines jet on Sunday.
The European Union's civil aviation safety agency has suspended all flights on Boeing 737 MAX planes throughout the bloc, including all the flights on the 737-8 and 737-9 models.
"EASA decided to suspend all flights of the two models," it said in an announcement.
The Boeing 737 Max flight ban in EU member states follows similar suspensions in Norway, Ethiopia, Indonesia, Australia, China, Mongolia, South Korea and Turkey.
The decisions come after the same model plane was involved in two deadly crashes in five months, causing concerns for the world's biggest planemaker.
On Sunday, Ethiopian Airlines flight 302 crashed shortly after takeoff from Addis Ababa, killing all 157 people on board who were en route to Nairobi, Kenya. This crash comes only five months after the same model Lion Air jet crashed in Indonesia, killing 189 people.
Shares in Boeing have been in free fall on Wall Street. The loss in capitalisation for the American aeronautical giant exceeds $20 billion since Monday.