Venice plans to impose new entrance tax charge for day-trip visitors
Comments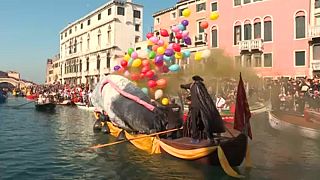 It is estimated that more than 25 million tourists visit the beautiful city of Venice every year.
Nearly half of them stay only one day and don't represent significant income for cafes and restaurants.
With the cost of cleaning rising every year, the city has decided to impose a new tax and charge these visitors with an entrance ticket, meaning that anyone who visits Venice for a day or even just a few hours, will also have to pay.
They will be called upon to pay 3 euros during 2019, but the charge will double in 2020.
"I think the new tax for the tourists from the ships who don't stay overnight in Venice is a great idea. The local community can then use that money to improve the services and to save Venice," one Australian tourist said.
However, not everyone agrees with the plan. As one Venice resident said: "Not only will the chaos we have now continue, but having paid this tax, tourists will feel that they have the right to exploit it. It'll be a disaster."
The measure will exclude hotel customers, as they are already required to pay an accommodation tax, as well as children under the age of six, along with those who were either born, work or study in Venice.