Estonia elections, climate strikes and Eurotunnel settlement | Europe briefing
Comments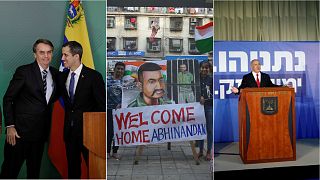 1. The Philippines could charge officials of Sanofi over dengue deaths
The Philippine justice ministry said on Friday it had found probable cause to indict officials from French pharmaceutical company Sanofi and former and current Philippine health officials over a series of dengue-related deaths because of faulty implementation of an immunisation programme in 2016 using the vaccine Dengvaxia.
2. Estonia set to hold general elections this Sunday
The Baltic country of Estonia will hold elections this Sunday to select members of the 101-seat parliament, the Riigikogu.
The outgoing prime minister, Jüri Ratas, and his Centre Party are competing against the centre-right opposition Reform Party.
Both want to stop the far-right party, which has increased in popularity since 2015, from getting any more popular.
Thousands of young climate change activists around the world have refused to go to school in recent weeks, and more strikes are planned, including a worldwide protest on March 15.
Among them is 22-year-old geography student Luisa Neubauer. Inspired by 16-year-old Swedish climate activist Greta Thunberg, she's called on children and teenagers to take to the streets of Hamburg, Germany, and forego school to protest for action on climate change policy.
The British government paid Eurotunnel €38 million after accusations of a "secretive" process to award ferry contracts to the three ferry companies that would provide additional freight capacity on new routes across the Channel in case of a no-deal Brexit.
5. US-led coalition confirms French jihadist killed in Syria
A US-led coalition strike against the so-called Islamic State's last territorial stronghold in eastern Syria killed veteran French jihadist, Fabien Clain, who played a part in the Paris' 2015 attacks, announced the coalition.
The coalition statement did not say when Clain was killed.
You can follow Euronews' live blog coverage every weekday from 6am to 12pm in the blog below: