Brexit latest and Vatican treasurer guilty of child sex abuse | Europe briefing
Comments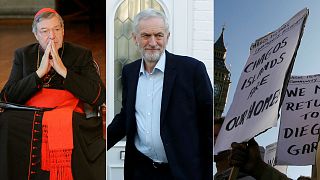 -
The UK's opposition Labour Party has backed a second Brexit referendum as key ministers openly declare that they would back a second campaign for the UK to remain in the European Union.
British Prime Minister Theresa May is reported to consider a Brexit delay to avoid a situation in which the UK leaves the EU with no deal.
Parliament is due to debate and vote on several proposals and amendments on Brexit on Wednesday, including at least one that would demand that the exit deal is put to a public vote.
_Click on the player above for more on this story. _
Cardinal George Pell was convicted on five charges of child sex offences.
The verdict had been subject to a court order that prevented reporting of the case until the judge lifted the restrictions on Tuesday.
Australian Cardinal Pell, the Vatican treasurer and a close adviser to Pope Francis, is the most senior Roman Catholic official to be convicted of sexual offences
Extraordinarily warm weather is down to climate change. That's the verdict of Joseph Dutton, from the E3G climate think tank in London, who warned that we should be concerned about the atypical temperatures.
On Monday, several parts of the UK saw some of the warmest winter days with a temperature of 20C recorded in west London.
The UN's International Court of Justice (ICJ) said the UK was "under obligation" to relinquish its control of the Chagos Archipelago after finding that authorities acted unlawfully in separating the islands from Mauritius during decolonisation.
In the advisory ruling, the ICJ urged the UK to complete decolonisation "as rapidly as possible."
A British judge on Tuesday ordered the extradition of a French businessman suspected of funnelling money from former Libyan leader Muammar Gaddafi to finance Nicolas Sarkozy's 2007 presidential campaign.
Alexandre Djouhri is wanted by France over a series of allegations including active corruption of a foreign public official, conspiracy to misappropriate public funds and money-laundering.
You can follow our live coverage every weekday between 6am and 12pm in the blog below.