Rami Malek wins Best Actor for his role as Queen singer Freddy Mercury in 'Bohemian Rhapsody'
Comments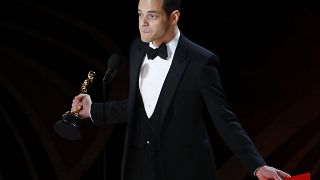 Rami Malek won Best Actor at the 2019 Oscars for his role as late frontman Freddie Mercury in 21st Century Fox musical "Bohemian Rhapsody."
The film won three other Academy Awards.
"I may not have been the obvious choice, but I guess it worked out," said Malek, who had been the favourite to win the award after successes at the Baftas, Screen Actors Guild Awards and the Golden Globes.
In his speech, Malik celebrated the message of "a film about a gay man, an immigrant, who lived his life unapologetically as himself."