Oscars 2019: what you need to know
Comments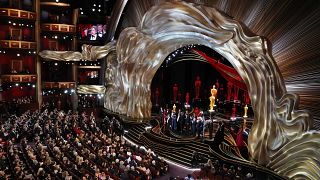 -
Welcome to live coverage of the 91st Academy Awards in Hollywood.
Here are list of winners from Sunday night...
Best Picture: "Green Book" | Director: Alfonso Cuarón, "Roma" | Actor: Rami Malek, "Bohemian Rhapsody" | Actress: Olivia Colman, "The Favourite" | Supporting Actor: Mahershala Ali, "Green Book" | Supporting Actress: Regina King, "If Beale Street Could Talk" | Original Screenplay: "Green Book" | Adapted Screenplay: "BlackKklansman" | Foreign Language Film: "Roma" | Animated Feature: "Spider-Man: Into the Spider-Verse" | Best Documentary: "Free Solo"
Oddsmakers miss on Best Picture as Netflix Original 'Roma' gets upset by 'Green Book'
Before the Oscars, "Roma" was a big favorite to win Best Picture, a prospect which would have been a major breakthrough for Netflix. In the end, however, the votes went to "Green Book."
"Green Book" is a film about Dr Don Shirley (Mahershala Ali), a world-class African-American pianist, who is about to embark on a concert tour in the Deep South in 1962.
In need of a driver and protection, Shirley recruits Tony Lip (Viggo Mortensen), a tough-talking bouncer from an Italian-American neighbourhood in the Bronx. Despite their differences, the two men soon develop an unexpected bond while confronting racism and danger in an era of segregation.
"Roma" didn't leave empty-handed, however. The black and white epic set in 1970s Mexico City claimed best foreign language film and best director for Alfonso Cuarón.
Olivia Colman claims Best Actress and says she didn't want to
Olivia Colman became the first Briton since Kate Winslet in 2009 to claim the Best Actress accolade for her portrayal of the caprious British queen Anne in "The Favourite." She told fellow star Glenn Close, who had been tipped for the award for her performance in "The Wife": "you have been my idol for so long, and this is not how I wanted it to be."
Alternating between laughter and tears, she told the audience: "It's genuinely quite stressful. This is hilarious. I've got an Oscar!"
And one of the biggest laughs of the night came when she was urged by production staff to wrap up and responded by blowing a raspberry.
Spike Lee delivers political moment as Vice fails to shine
Claiming his first competitive Academy Award, after winning an honourary Oscar in 2016, veteran director Spike Lee urged Americans to "do the right thing" in the 2020 Presidential Election. Lee was speaking after taking the gong for Best Adapted Screenplay for "BlackKklansman".
However, the year's most controversial political blockbuster, "Vice" left almost empty-handed, winning only "Best Hairstyling and Makeup".
After the ceremony, Lee declined to comment on reports he had tried to leave the theatre after the announcement that "Green Book" had won best picture. The film has been accused of covering-up historical reality through a "white savior" narrative.
Lady Gaga delivers a touch of romance
Bradley Cooper and Lady Gaga won over the internet with a duet of the song "Shallow" from their film "A Star Is Born". The pair were repeated applauded in the auditorium as they created a moment of intimacy in from of millions of spectators.
Oscars go host-less for first time in 30 years - who won awards in 1989?
ABC News officially confirmed the program would be without a host this year, after comedian Kevin Hart stepped down following the resurfacing of homophobic tweets between 2009-2011.
The Oscars have not gone without a host since 1989. The Academy announced a group of celebrities slated to present tonight, including Elsie Fisher, Jason Momoa, John Mulaney, Amy Poehler, Maya Rudolph, and Pharrell Williams.
In March 1989, the film "Rain Main" took home Oscar wins at the 61st Academy Awards in Best Picture, Best Actor (Dustin Hoffman), and Best Director (Barry Levinson). Jodie Foster won Best Actress for her role in The Accused beating out Glen Close as Marquise Isabelle de Merteuil in Dangerous Liaisons.
Now 30 years later, Close had another disappointing Oscar night as a huge favorite to win Best Actress, which was won by Olivia Coleman in 'The Favourite.'
Mike Pompeo reveals his love for Queen in odd TV interview with Sean Spicer
Sean Spicer grilled Pompeo and his wife - who are self-described movie buffs - about which film they hope will win best picture at the Academy Awards on Sunday. Susan Pompeo revealed that her husband "adores Queen, so we saw 'Bohemian Rhapsody' the first weekend and 'A Star is Born.'"
Spicer then asks Pompeo which film should take home the gold trophy.
The secretary answered: "Gosh, I loved 'Bohemian Rhapsody.'"
The first hostless Academy Awards in 30 years took its lead from the Grammys, opening with a rowdy rendition of "We Will Rock You" by Queen, the supergroup chronicled in the blockbuster best-picture nominee "Bohemian Rhapsody."
Great musical artists who have won Best Original Song
Some of the greatest artists in history who have won Oscars include Elton John, Celine Dion, Whitney Houston, Adele and Phil Collins.
Here is a list of some of history's Best Original Songs:
"Things Have Changed" – Wonder Boys, 2000
"Raindrops Keep Fallin' on My Head" – Butch Cassidy and the Sundance Kid, 1969
"When You Wish Upon a Star" – Pinocchio, 1940
"Let it Go" – Frozen, 2013
"Over the Rainbow" – The Wizard of Oz, 1939
"Can You Feel the Love Tonight" – The Lion King, 1994
"Lose Yourself" – Eminem, 2002
"What a Feeling" – Flashdance, 1983
"My Heart Will Go On" – Titanic, 1997