Moldova's hung parliament, May's renewed Brexit efforts and Olivia Colman's speech | Europe briefing
Comments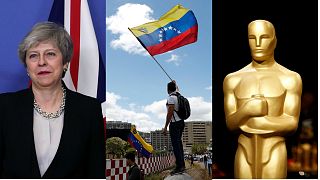 British Prime Minister Theresa May has said that parliament will vote on a Brexit deal by March 12 at the latest and that talks with the European Union were "still ongoing", which ruled out a vote on her deal this week.
During Egypt's EU/Arab League summit, May met with the bloc's leaders to try and win support for her efforts to make her deal more attractive to parliament.
Moldova's election has produced a hung parliament, results showed on Monday, splitting the vote between pro-Western and pro-Russian forces at a time when the ex-Soviet republic's relations with the European Union have soured.
Olivia Colman became the first Briton since Kate Winslet in 2009 to claim the Best Actress accolade for her portrayal of the capricious British Queen Anne in "The Favourite."
She told fellow star Glenn Close, who had been tipped for the award for her performance in "The Wife": "You have been my idol for so long, and this is not how I wanted it to be."
4) Spanish right-wing parties fall short of a parliamentary majority in poll predictions
A coalition of Spanish right-wing parties — the People's Party (PP), Ciudadanos, and Vox — are close to getting a parliamentary majority according to a poll for Spanish newspaper ABC ahead of a snap election on April 28.
Spain's socialist party PSOE would need the support of anti-austerity Podemos and small regional parties to secure a majority, according to the poll.
5G internet is being called the next wireless revolution and is one of the main themes at this year's World Mobile Conference in Barcelona. But what exactly will it change in our day-to-day lives? And does 5G pose any risks to our health and security?
Euronews' Emma Beswick spoke live to Bart Salaets, Systems Engineering Director of 5G experts F5 Networks, at the MWC to get answers to these questions and more.
You can follow our live news coverage every weekday from 6am to 12pm in the blog below: