Watch again: everything you need to know about 5G from the MWC
Comments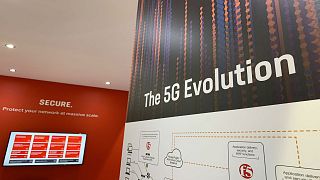 5G internet is being called the next wireless revolution and is one of the main themes at this year's Mobile World Congress in Barcelona.
Euronews' Emma Beswick spoke live to Bart Salaets, Systems Engineering Director of 5G experts F5 Networks, on the sidelines of the event.
Both Huawei and Samsung launched 5G connected phones ahead of the MWC, but what is it really going to change in our day-to-day lives?
To put the speed of the network into perspective, downloading an HD film using a 4G connection can take around 10 minutes, whereas you will be able to do this in less than a second on 5G.
It will allow surgeons to perform operations remotely and connect whole urban areas to make smart cities among other wide-reaching applications.
When are we going to be able to use the 5G network?
Salaets explained that the network will be rolled out in different countries at different times, as the infrastructure is put in place.
This should happen between 2020 and 2022, he said.
What are the risks?
5G will require hundreds of thousands of radio antenna to be built to support it, and some say the effects of this on our health must be studied more closely before the network is rolled out.
What's more, cybersecurity experts have raised concerns that 5G poses a higher security risk than 4G and are calling for measures to be taken to safeguard back doors.
"It's obvious that this network needs to be very tightly secure," said Salaets. "The technology is ready, it's there, but getting it secure from all angles is something that the industry needs to do."
Euronews brings you the latest on technology at the MWC on our website and social media platforms from Monday, February 25 to Wednesday, February 27.
You can watch the full interview in the player above.