Raw Moment: Protesters dressed as soldiers create 'Brexit border wall' on island of Ireland
Comments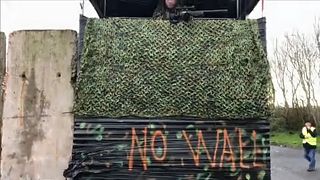 On Saturday, groups of people dressed as soldiers participated in a demonstration, warning how a no-deal Brexit could have a negative impact on the country.
Dressed in military uniforms, the group protested against Brexit, creating a fake hard border on the island of Ireland.
Although the UK is scheduled to leave the EU in just over two months, a solid plan for Brexit has not yet been agreed upon.