Denmark builds border fence with Germany to keep infected wild boar away
Comments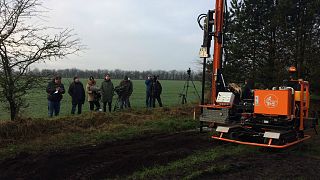 Copyright

Twitter/Denmark Ministry of Environment and Food
Denmark started building a 70km-long fence along its border with Germany on Monday in a bid to protect its pigs from disease-carrying wild boar.
Plans for the border fence were announced in March 2018 amid fears of African swine fever reaching Denmark, which could severely hamper the country's pork exports.
While African swine fever is harmless to humans and other animals, it is contagious and deadly among domestic pigs and wild boar.
The Danish government says cases of African swine fever are already present in several European countries, including Poland, the Czech Republic, Romania, Estonia, Latvia and Lithuania.
In July 2018, Belgium also confirmed an outbreak of the disease, leading to neighbouring France implementing plans to carry out culls of wild boar along the border region.
READ MORE: Belgium records first cases of African swine fever
Exports in Denmark's pork industry totalled 30 billion krone (€4 billion) in 2016, more than half of which was traded within the European Union.
However, should African swine fever reach Danish pigs, exports to non-EU countries would have to cease, the Danish government said in a statement.
"We have 11 billion good reasons to do everything we can to prevent African swine fever reaching Denmark. And now we can finally get started on erecting our wild boar fence," Denmark's Minister for Environment and Food Jakob Ellemann-Jensen said.
"The fence and our increased efforts to hunt wild boar will break the chain of infection so there is less risk of African swine fever spreading to Denmark."
However, environmental groups have in the past expressed concern over the impact on cross-border migration for other animals.
"We recognise the potential danger of African swine fever to Danish pork meat production, however, we have seen no documentation yet of the effectiveness of the planned Danish border fence," the World Wildlife Fund for Nature (WWF) in Denmark and Germany wrote in an open letter last year.
"With a fence planned to be 150 cm above ground and 50 cm below, the design and construction will be a physical coast-to-coast barrier to wildlife between our countries."
"We are therefore greatly concerned about the impact of this fence and how it will affect the natural cross-border migration of shared populations of mammal species like European otter, the gray wolf, the golden jackal, the red fox, the Eurasian badger, the roe deer and the red deer."
Despite the concerns raised, Denmark's government maintained that other species would still be able to cross.
"There will be a 20x20 cm opening every 100 metres to allow smaller animals to pass through the fence," the Danish government said in a statement on Monday.
Lise Bech, the agriculture and food spokesperson for the Danish People's Party (DF), said the new fence would be a "cornerstone in preventing African swine fever from spreading to Denmark." 
"The fence will make it easier for hunters to eradicate wild boars from Denmark, and it will keep potentially infected wild boars from crossing the border," she said. 
Work on the fence begins in Padborg, situated on the eastern side of the Denmark-Germany border, and is due to be completed in the autumn.