Saving their bacon: MPs back plans for Denmark-Germany border fence
Comments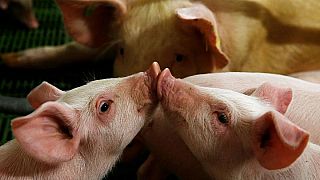 Denmark is pushing ahead with a 70-km fence on its border with Germany to help protect its lucrative pork exports.
MPs today backed construction of a barrier aimed at keeping wild boar — carriers of the deadly African swine fever — from entering the country.
While there have been no cases of the fever in Denmark, it already exists in Poland, Czech Republic, Romania, Estonia, Latvia and Lithuania, according to the Danish government.
"The wildlife fence helps prevent new wild boar from coming to Denmark from Germany," said Jakob Ellemann-Jensen, Denmark environment and food minister.
"If African swine fever reaches Denmark, we must expect that an export of 11 billion kroner (€1.4 bn) annually closes immediately,"
"Therefore we are doing everything we can to prevent it, including the targeting of wild boar so minimise the risk of the fever."
But environmental groups are concerned about the impact the fence will have on other animal species.
The heads of the World Wildlife Fund for Nature (WWF) in Denmark and Germany wrote in an open letter: "We recognise the potential danger of African swine fever to Danish pork meat production, however we have seen no documentation yet of the effectiveness of the planned Danish border fence.
"The spreading of ASF to pig farms is primarily linked to human activities and not to wild boars.
"With a fence planned to be 150 cm above ground and 50 cm below, the design and construction will be a physical coast-to-coast barrier to wildlife between our countries.
"We are therefore greatly concerned about the impact of this fence and how it will affect the natural cross-border migration of shared populations of mammal species like European otter, the gray wolf, the golden jackal, the red fox, the Eurasian badger, the roe deer and the red deer."