Russia marks 75 years since the end of the Leningrad siege
Comments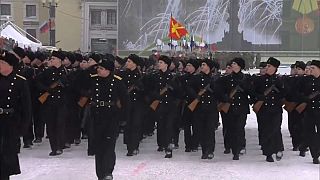 In a huge ceremony, Russians have been marking 75 years since the end of the siege of Leningrad; now St. Petersburg.
It was three quarters of a century ago when Nazi forces were driven away from the city by the Soviet Army.
More than 2,500 soldiers along with military hardware, included a World War Two T-34 tank, paraded through Palace Square in temperatures of minus 18 Celsius.
While the city was under siege by German forces it is thought at least a million residents died from hunger and artillary bombardments.
Later, at Piskaryovskoye cemetery, where hundreds of thousands of victims are buried, Russian President Vladimir Putin laid flowers.
Putin did not attend the earlier parade after some groups argued it should be about commemorating victims rather than flaunting military strength.
Putin's older brother was among those who died as a result of deprivation during the two-and-a-half year long siege.