Angola to diversify market outside oil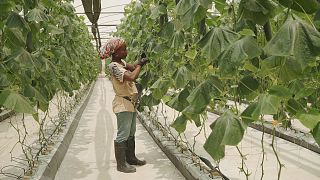 Angola is one of the world's top oil producers but it wants to diversify its economy. As it courts international investment which sectors, is it looking to expand?
Near the capital Luanda, LP Eletronica has a new factory handling mobiles phones. Parts come from China with final assembly taking place here. Phones are tested for performance, cleaned and then packed. Commercial Director, Marco Tavares, spoke to Euronews about developing phones domestically.
"More than 70% of the population cannot afford to have a smartphone. So we designed this phone for that niche of the market."
LP Eletronica is family-owned with a private equity stake. It has an edge over international competitors with an import tax of 3% tariff on parts, instead of 23% tariff on a fully assembled phone: "this allows us to have a very nice price and compete in the market."
The company expects to produce 30,000 units per month this year, with plans for smartphones and TVs. It also provides jobs for 180 Angolans. An employee, Elisete Lourenço, spoke to Euronews about working for the company.
"It's a very big challenge. I'm very happy to be a part of that. And I think it can make a big difference in the country and for my generation."
President of business association CEEIA, Agostinho Kapaia, says there are still plenty of other prospects for investors.
"If you are investing in agriculture and also in industry, the processing industry. It can be a good opportunity for business, and also in the future for exporting."
In former times, Angola was one of Africa's breadbaskets but it's now, firmly, on the comeback trail. But with scarcely 20 years passing since the civil war, which sectors offer the greatest opportunities for investors?
"We have to rebuild everything. Rebuild our roads, and energy and water system" Kapaia told Euronews.
Outside Luanda, agribusiness Fazenda Girassol sells 60 different types of fruits and vegetables. It grows them but also buys them from other farmers. In one of its greenhouses, the company grows cucumbers using drip irrigation. Sensors regulate the mix of purified water and nutrients. Constantino César , Director of Sales and Public Relations, at Fazenda Girassol spoke to Euronews about the company's goals.
"We are different because we use technologies from around to world to get the quality that the market needs. Not only the national market but also the international market. Our first goal is to supply the local, national market. Then, as we grow, to supply the international market."
Girassol has more than 1100 employees. Crops are cleaned and packaged for supermarkets, restaurants and airline catering. They also have a website for online orders and home delivery.
Angola is a market that shows no signs of slowing down with many opportunities for major growth and industry diversification.