What should you eat to stay healthy and save the planet? Euronews Answers
Comments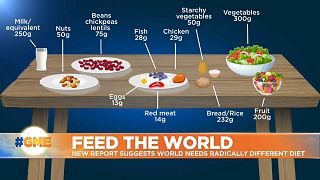 The world needs a radically different diet for the sake of the health of the planet and the people on it, according to leading scientists.
Why do we need to change what we eat?
The researchers say more than 11 million premature deaths could be prevented each year, while the environment would be more protected.
Poor diets have been linked to many life-threatening chronic diseases, such as obesity, diabetes, malnutrition and several types of cancer. These are said to cause more death and disease worldwide than unsafe sex, alcohol, drug and tobacco use combined.
The report also calls for a significant overhaul in farming methods by 2050. Otherwise it says it will be impossible to feed the entire global population as well as avoid devastating damage to the planet.
Current farming methods contribute significantly to global greenhouse gas emissions, via the expansion of land for agriculture, and meat and dairy production in particular.
What should we eat?
Published in the medical journal The Lancet, the study proposes a "Planetary Health" diet which would halve the global consumption of red meat and sugar. Meanwhile it says the intake of nuts, fruits, vegetables and legumes could be doubled.
Here is the report's recommendation for what a healthy and sustainable daily diet could consist of:
232g whole grains (rice, wheat, corn and other)
50g tubers or starchy vegetables (potatoes and cassava)
300g all vegetables
200g all fruits
250g dairy foods (whole milk or equivalents)
14g beef, lamb and pork
29g chicken and other poultry
13g eggs
28g fish
75g legumes
50g nuts
40g unsaturated oils
11.8g saturated oils
31g added sugars
The proposed planetary diet is the result of a three-year project commissioned by the Lancet health journal and involving 37 specialists from 16 countries.
How are we doing right now?
The report stresses that the diet does not imply that everyone should eat exactly the same food, nor does it prescribe an exact diet. Researchers also acknowledge that there is massive inequality in access to food, with hundreds of millions of people not having enough.
There are also regional variations: North America consumes over six times the recommended amount of red meat, East Asia eats too much fish, and Sub-Saharan Africa consumes 7.5 times the suggested amount of starchy vegetables such as potatoes and cassava.