Sexism in France: 1.2 million women targeted in 2017 but only four convictions made
Comments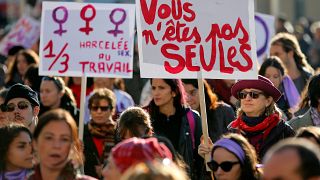 Copyright

REUTERS/Jean-Paul Pelissier
As many as 1.2 million French women were targeted with sexist insults in 2017, but there were just four convictions for the offence, according to a major report released on Thursday.
The report, by France's independent High Council for Equality Between Women and Men (HCE), has been dubbed the first official investigation into sexism in the European country.
It describes sexist insults as a "daily violence" faced by women, which is rarely reported to the police.
The most frequently reported insults were salope (slut), pute (whore) and connasse (bitch).
But the HCE found that official complaints were filed in just 3% of cases in 2017, and resulted in only four convictions.
Sexism in France is "still prevalent, widespread and yet still very rarely condemned", it said.
Women were found to represent the vast majority of victims of sexist insults, while most offenders were men.
Lawmakers last year approved legislation banning sexual harassment on the streets, allowing on-the-spot fines for harassers of up to €750.
The move came after footage of a French woman being punched in the face after confronting her harasser on the streets of Paris sparked national outrage.
READ MORE: Woman hit by harasser in Paris talks to Euronews about her fight to stop violence against women
Among its recommendations, the HCE called on the government to promote increased awareness about sexism, through campaigns and training; provide greater support for victims; and push for more convictions of perpetrators.
It also called for an annual poll of citizens to better understand the scale of the issue.
"Sexism is not inevitable and it is not natural. It is a deadly ideology, which must be fought vigorously," said HCE President Danielle Bousquet.