Woman hit by harasser in Paris talks to Euronews about her fight to stop violence against women
Comments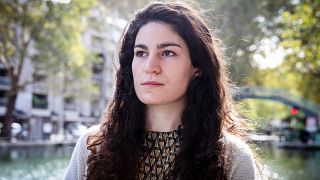 -
In July, Marie Laguerre was punched in the face after confronting her harasser on the streets of Paris.
The incident sparked national outrage after a video of the attack went viral. It forced politicians to pass tougher laws on harassment against women in August, whereby perpetrators could be fined between €90 and €750 on the spot for offences including catcalling, "upskirting," or making lewd comments.
But Laguerre's fight didn't end there.
The 22-year-old architecture student spoke to Euronews about how she started an online forum for women to anonymously share their stories of harassment following the attack. On Saturday, she will take part in a protest in Paris, marching to fight violence against women.
Fighting online harassment
Next week, Laguerre said she will be pressing charges against online harassers who have threatened her life.
"[Online harassers] said I was lying, wanted attention or was too ugly to be catcalled," she said.
"They insulted me, threatened to rape me and said [the attacker] should've killed me, she added, claiming that she had saved up to 100 messages as proof for the charges.
Her attacker, 25-year-old homeless man Firas M., already had a criminal record for violence against his mother and for pimping.
He was fined €2,000 and is now serving a six-month prison sentence for aggravated violence for attacking Laguerre. He was forced to undergo psychological analysis and complete a sensitivity training course about violence against women. He is barred from contacting Laguerre.
#NoustoutesHarcelement
On Laguerre's forum, women shared stories ranging from being "catcalled" to cases of rape and incest.
"I'm trying to make the site better," Laguerre said, adding that she is improving it with resources for victims of abuse after hearing their heartbreaking stories.
Protest
On Saturday, Laguerre marched in Paris on the eve of the International Day for the Elimination of Violence Against Women. 
"[Women] face violence in many different forms, every day. It can be harassment, insults, aggression, sexual assault, rape and also murder. This happens every day in France but also in the world and we just want to say that we've had enough," she said.
Barriers to progress
Laguerre cited religion, patriarchal traditional societies and the lack of education and awareness as some of the barriers to achieving gender equality.
"In general, not everybody understands how bad it is for women. Men don't see or feel or live the violence we go through. When you don't know it happens, or when you don't go through it, you don't fight for it because you don't know it happens."
Forgiveness
"I haven't thought about [forgivness]... when a man is violent, it's not enough to put them in prison, it's about educating them to have them understand what they did is wrong because he's just one guy. It's not just him, I hold a grudge on our culture," she said.