Brexit 'plan B', Greek government, Lyon fire: Europe briefing
Comments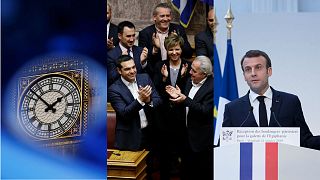 1. Brexit 'Plan B'
The leader of Britain's House of Commons, Andrea Leadsom, announced on Thursday that the British government will reveal its next Brexit steps on Monday.
This comes after the government was defeated last week in a vote which forced it to outlay its Brexit strategy within three days if the Withdrawal Agreement was rejected.
Leadsom also announced that lawmakers will debate and vote on May's Brexit 'Plan B' on January 29.
Watch our correspondents in London and Brussels break all the latest developments down in the video player above.
2. France activates 'Hard Brexit' plan
France has activated its "Hard Brexit" plan, Prime Minister Edouard Philippe said on Thursday.
The announcement comes just two days after British MPs voted against the Withdrawal Agreement agreed with EU leaders, increasing the likelihood of a no-deal Brexit.
"We can regret this rejection or rejoice in it, but in any case what is certain is that the hypothesis of a Brexit without an agreement is less and less improbable," Philippe told reporters.
The French government started working on its contingency planning, in the event that the UK leaves the EU without a deal, in April 2018, Philippe said.
Some of the measures triggered included a €50 million investment plan in ports and airports and the creation of 600 jobs in areas including customs.
Philippe conceded however that there's "more work" to be done, particularly "to defend the interests of French fishermen."
3. Macedonia name change
Prime Minister Alexis Tsipras survived a vote of no-confidence on Wednesday, which was triggered after the resignation of Defence Minister Panos Kammenos and his right-wing Independent Greeks' party over an accord to end a long name dispute Greece and Macedonia.
His victory paves the way for the name change to be ratified by Greek parliamentarians, opening the door for the Former Yugoslav Republic of Macedonia to join the EU and NATO.
The agreement was criticised on Wednesday by Russian President Vladimir Putin and Foreign Minister Sergey Lavrov.
Lavrov said the name change might be a tactic by the US and other Western countries to destabilise the Balkans.
4. Lyon fire
A huge fire broke out on the rooftop of a university in the French city of Lyon on Thursday morning.
At least three people were slightly injured in the blaze, which is believed to have been triggered by the explosion of a gas bottle as a result of building works.
Shortly after 10 a.m., the university said that the fire was "under control" and that some of the buildings, which had been evacuated, had been re-opened.
5. Turkey deports Dutch journalist
Dutch financial newspaper Financieele Dagblad revealed on Thursday that Turkey has deported one of its journalists citing "security-related concerns."
The newspaper said in an article posted online that its correspondent Ans Boersma, was detained upon visiting an immigration office to extend her visa.
Editor-in-Chief Jan Bonjer said he was "profoundly shocked" by the move, which he described as a "flagrant violation of press freedom."
Boersma, 31, said on Twitter that she had been declared an "unwanted person" in Turkey.
Here's how we covered the developments this morning: