Hillsborough stadium disaster: Ex-police chief goes on trial over manslaughter of 95 football fans
Comments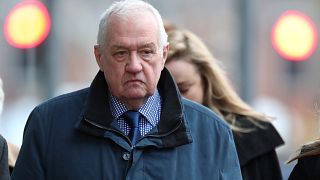 A British ex-police chief who was in charge of an FA Cup semi-final at Hillsborough nearly three decades ago was responsible for "extraordinarily bad" failures that contributed to the deaths of 95 people in a crush, a UK court heard on Tuesday.
David Duckenfield, 74, was accused of manslaughter over the deaths of the football fans at Hillsborough, Sheffield in 1989.
Prosecutors said his actions "contributed substantially" to the "tragic and unnecessary" loss of life.
The trial, which started on Monday at a court in Preston, north-west England, could go on for up to four months, according to the judge, Sir Peter Openshaw.
Duckenfield, who was South Yorkshire Police's match commander on the day, pleaded not guilty to the gross negligence manslaughter charge on Monday.
He is not facing charges in relation to the 96th victim of the disaster, Anthony Bland, who was on life support for four years until he was lawfully taken off the machine in 1993.
The fatal crush occurred in the two standing-only central pens in the Leppings Lane stand. Shortly before the match started, Duckenfield, ordered exit gate C to be opened, to ease overcrowding, leading to an influx of even more supporters to the already overcrowded central pens.
Prosecutor Richard Matthews QC told the jury on Tuesday: "In short … David Duckenfield gave no thought to the inevitable consequence of the flood of people through Gate C, nor did he make any attempt to even monitor what was occurring, let alone avert the tragedy."
Inquests initially concluded Hillsborough victims died accidentally.
But, after a concerted campaign, the verdicts were quashed and a coroner said they had been unlawfully killed.