Rahaf Mohammed al-Qunun: Saudi teen who fled fearing for her life granted asylum by Canada
Comments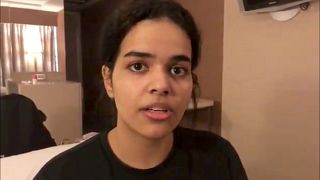 Canada has granted asylum to a Saudi teenager who fled to Thailand because she feared her family would kill her.
Prime Minister Justin Trudeau confirmed his country would be taking in Rahaf Mohammed al-Qunun.
"Canada is a country that understands how important it is to stand up for human rights, to stand up for women's rights around the world, and I can confirm that we have accepted the UN's request," he told reporters.
Earlier a Thai immigration official told news agency Reuters that the 18-year-old would be heading to Canada on Friday (January 11) evening.
Her case came to attention this week when she barricaded herself in a Bangkok airport hotel room to resist being sent home to Saudi Arabia. She was then allowed to enter Thailand and processed as a refugee.
Qunun has accused her family of abuse, a charge they deny.
Her case has drawn attention to Saudi Arabia's strict societal rules, including one that obliges women to have the permission of a male guardian to travel.
"Rahaf made it with courage and perseverance, and with new found friends around the globe who supported her in a way that really restores one's faith in humanity," said Phil Robertson, deputy Asia director at Human Rights Watch, reacting to Canada's decision.
"This is so much a victory for everyone who cares about respecting and promoting women's rights, valuing the independence of youth to forge their own way, and demanding governments operate in the light and not darkness.
"It was a social media #WeToo movement. What the world needs is more of these types of positive movements in 2019, and into the future."