Is Spain's VOX party from the far-right? | Raw Politics
Comments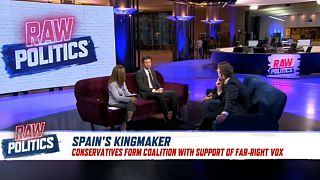 Spain's far-right Vox Party has agreed to back a right-wing coalition in the southern region of Andalusia, ending nearly four decades of left-wing rule.
The anti-immigration party, which won twelve seats in December's regional election, will support the conservative People's Party and the centre-right Ciudadanos party.
Jorge Valero, a correspondent for Euractiv and El Economista, described the new coalition as "the end of an era, because for the first time, there is a change of power" in the region.
"The eruption of Vox has shaken Spanish politics. We were considered almost the last (EU) member state without a far-right party, that is no longer the case," he told Euronews' Raw Politics show.
Spanish MEP Ana Miranda from the Galician Nationalist Bloc deplored the rise of "the far-right party," branding them "a danger to women, LGBTI persons".
But Vox's director of international relations, Ivan Espinoza, rejected this criticism and said: "I don't consider that it's a fair label to say that we're a far-right party."
"Spain is still the only, one of the few EU countries, without a far-right party," he added.
He qualified as "appalling" any claims the party is a danger to minorities or democracy and said that "fake news is a true threat to democracy".
Watch the whole debate on Raw Politics in the video player, above.