Barbarin trial: prosecutor requests no conviction for French cardinal
Comments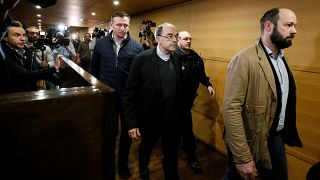 French prosecutors announced on Wednesday that they will not seek to convict Cardinal Philippe Barbarin, who is accused of failing to report a priest for sexual abuse, because "the statute of limitations has expired."
"I will not require any conviction against anyone today because the statute of limitations has expired and in those cases that it has not, the offences have not been established," deputy prosecutor Charlotte Trabut told the High Court in Lyon.
Barbarin and five other members of his diocese have been on trial since Monday.
The decision from the Prosecutor's Office is similar to the one it had already taken in 2016 following a preliminary investigation into the same facts. The plaintiffs had then launched a subpoena procedure to get the trial.
Barbarin, 68, has always denied the allegations and on Monday, as the trial opened, he once again refuted any allegations that he had sought to quash the scandal.
"I have never tried to hide, let alone cover up these horrible facts," he told the courtroom.
He also reiterated his claim that he only became aware of the abuse in 2007, years after he was made Archbishop of Lyon and then Cardinal.
The alleged victims of Father Bernard Preynat, who has admitted sexual abuse of underage boys in the 1980s and 1990s, reject that claim and believe higher-ups in the church knew of the abuse as early as 1990 when Preynat was moved to a different parish.
Barbarin is the highest profile cleric to have been caught up in the sexual abuse scandal in the French Catholic church so far and although he will not be convicted, his influence — he was once tipped as a future pope — has been diminished.
He has been dogged by criticism over controversial comments he made in March 2016 when he told reporters inquiring about the sexual abuse scandal: "Thank God, the majority of the facts are prescribed."
He was also condemned for taking months in 2015 to follow a Vatican directive to remove Preynat from any duties which would put him in contact with children.
During the three-day trial he sought to address some of that criticism, telling the court he recognised that he had "not always been able to use the best and smartest words in the past" and that his slowness to act was due to the Vatican asking him "to avoid a public scandal."