Raw Politics: European politicians denounce abuse directed at them
Comments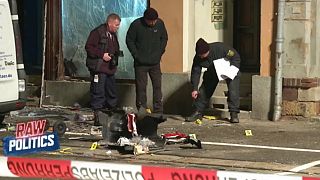 Verbal and physical attacks against politicians and journalists have grabbed the headlines in recent days.
A member of the right-wing Alternative for Germany party was brought to hospital on Monday after being attacked by three masked men. In the UK, MPs and journalists have called for more police protection around Parliament as protesters around the building increasingly target them with abuse.
For Euronews' political editor Darren McCaffrey, heckling politicians is a normal part of the political discourse and politicians should be prepared to face name calling.
However, he added, when it starts "verging into intimidation, that is where a line is then crossed."
British Conservative MEP Jacqueline Foster agreed, telling Euronews' Raw Politics programme that "this is not the way we do politics".
"It needs to be nipped in the bud, we need to put an end to this" and introduce a bit more "humour" and "humanity" in political debate, she added.
James Crisp, Brussels correspondent for the UK's Telegraph newspaper flagged the more dangerous consequences such behaviour against politicians can have.
Former British MP Jo Cox, he said, "was assassinated essentially by a lunatic who seems to have been inspired by some of this anger."
Watch our panel debate the topic on Euronews' Raw Politics programme in the player above.