Kevin Spacey's lawyers enter not guilty plea in sex assault case
Comments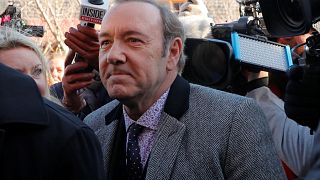 Lawyers for Kevin Spacey entered a not guilty plea on his behalf in Massachusetts court Monday on charges he groped an 18-year-old busboy in 2016.
The disgraced actor was arraigned on a charge of felony indecent assault and battery during a hearing at Nantucket District Court. The judge set another hearing for March 4. Spacey does not have to appear, the judge ruled, but said he needs to be available by phone.
Spacey must stay away from his accuser and his accuser's family, the judge also ordered.
The judge granted a request by Spacey's lawyers to preserve the victim's cellphone data from the six months following the alleged assault. Spacey's attorney Alan Jackson said there is data that is "likely exculpatory" for Spacey.
Spacey and his lawyers declined to comment as they left the courthouse amid a crush of reporters
The hearing comes more than a year after a former Boston TV anchor accused the former "House of Cards" star of sexually assaulting her son, then 18, in the crowded bar at the Club Car, where the teen worked as a busboy.
Jackson has sought to poke holes in the case, noting that the teenager didn't immediately report the allegations. If convicted, Spacey faces as many as five years in prison. Spacey has said he intends to plead not guilty.
The civil attorney for the accuser said in a statement ahead of the hearing that his client is "leading by example."
Spacey faces up to five years behind bars, if convicted of all charges. Spacey has generally kept a low-profile since several men have accused him of sexual misconduct — allegations he denied. Unruh made her accusations just five days after Netflix, makers of his hit show "House of Cards," cut ties with Spacey.
The actor tweeted a video on Christmas Eve looking into the camera and speaking in a southern accent that appeared to mimic his "Cards" character, President Frank Underwood. He seemed to reference his "Cards" termination.
"Despite all the poppycock, the animosity, the headlines, the impeachment without a trial. Despite everything," said Spacey, wearing a Santa Claus apron and standing in a kitchen. "Despite even my own death, I feel surprisingly good and my confidence grows each day that soon enough you will know the full truth."