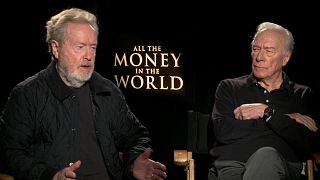 Ridley Scott's All the money in the World tells the true story of American billionaire J. Paul Getty, who famously refused to pay the full ransom demanded for his kidnapped grandson in 1973.
Kevin Spacey originally portrayed the eldest Getty, but multiple sexual assault allegations against him prompted director Ridley Scott to recast the role with Christopher Plummer.
The reshoot took place just six weeks before the film's release and reportedly cost $10 million.
Ironically, Christopher Plummer was Ridley Scott's original pick for the role but the studio bosses wanted a bigger name and opted for Spacey.
"There is a coolness to Kevin (Spacey), that's his style, okay? And even when he's being emotional it's cool, it's kind of coldish," Scott said, adding that Plummer had "inordinate charm" that worked well with the role.
Whirlwind reshoot
The 88-year-old Plummer had to reshoot his scenes in just nine days.
"Thank God for my training in the theater," he said. "I was able to, you know, get my lines down quickly, because that's all I had time for. There was no time to prepare or anything."
Co-stars Michelle Williams and Mark Wahlberg reshot the scenes for free, USA Today reported.
"I just thought that this experience that we had all treasured was going to be essentially flushed down the toilet," Williams told the newspaper.
"I said I'd be wherever they needed me, whenever they needed me. And they could have my salary, they could have my holiday, whatever they wanted. Because I appreciated so much that they were making this massive effort."
The collective effort seems to be paying. The film has already racked up three Golden Globe nominations for Best Director, Best Actress and Best Supporting Actor for Plummer.
All the money in the World opens in US cinemas on Christmas Day and will be on release across Europe from the end of December.