Tuna sells for record €2.7 million in Japan's New Year fish market
Comments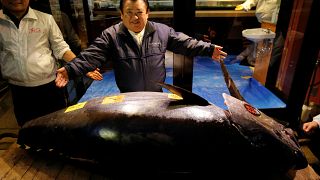 -
A Japanese sushi tycoon has paid a record 333.6 million yen (€2.7 million) for an enormous tuna at the first auction this year in Tokyo's new fish market.
Kiyoshi Kimura, who owns the Sushizanmai restaurant chain, bought the 278-kilogramme bluefin tuna, which was caught off Japan's northern coast.
Kimura told reporters "the tuna looks so tasty and very fresh, but I think I did too much, " adding, he paid five times more than he expected.
The sushi boss had held the record for paying the most for a single fish at the new year's auction for six straight years until he was outbid in 2017.
This year's auction was the first of the Toyosu market after the famed Tsukiji fish market shut in 2018 to provide temporary parking for the Tokyo 2020 Summer Olympics.
Bluefin tuna are classified as an endangered species by the World Wildlife Fund, which says the species is under threat from illegal fishing.
In December, Japan announced it would restart commercial whaling and would withdraw from the International Whaling Commission (IWC).
The pact banned commercial whaling in 1986 after some species were driven almost to extinction.
Japanese officials said eating whale was part of the country's culture.