What a catch! More than 600,000 euros for a 212 kilo tuna
Comments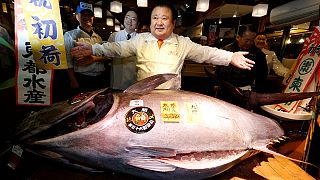 He calls himself the "King of Tuna", paying the equivalent of just over 600,000 euros for a catch weighing 212 kilos.
For the sixth year in a row restaurant boss Kiyoshi Kimura has paid the top price in what could be the last New Year's auction at the current site of the famous Tsukiji fish market in Tokyo.
The market, said to be the largest of its kind in the world, is due to be moved to a new location.
But it is not all celebration over the auction of the Pacific bluefin tuna.
Conservation groups are calling for a moratorium on commercial fishing of the species because of numbers falling to dangerously low levels.