Travel disruption as heavy snow hits central Europe
Comments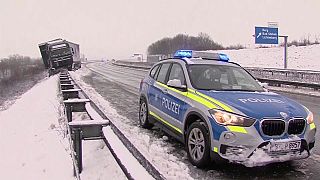 Heavy snow is causing severe disruption for those travelling in central Europe this weekend.
In Greece, a 66-year-old woman was found dead and two men were reported missing near Athens after blizzards struck part of the country.
Temperatures in northern and central Greece have stayed below zero degrees centigrade for the last few days.
Southern Germany, Austria, and Switzerland were among the most affected areas on Saturday - with more than 20 centimetres of snow falling in some areas.
Dozens of flights were cancelled in the region because of the conditions.