Cargo spill sparks sandy free-for-all on Dutch beach
Comments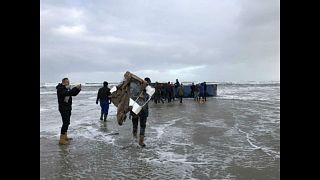 -
Treasure hunters happily picked up flat screen televisions, light bulbs, car parts and furniture after a cargo ship lost part of its shipment due to the high seas.
The Dutch Coast Guard said up to 270 containers had fallen off the Panamanian-flagged MSC ZOE, one of the world's biggest container ships, in rough weather near the German island of Borkum and floated southwest toward Dutch waters.
It's unclear if any of the goods suffered any water damage.
Random toys also showed up on the beach.
Containers broke open on the shores of the Dutch islands of Terschelling and Vlieland. Others were floating or stranded off the coasts of Ameland and Schiermonnikoog.
Islanders found some furniture:
Volunteers were on hand to help with the clean-up, fearing the rise of pollution and litter that was piling up on the sandy shores.
Terschelling mayor Bert Wassink told Dutch media that clearing up the containers would take days.
"We've never had to deal with anything like this," he told dutchnews.nl. "We do find containers in the water from time to time, but never on such a scale."