Spain's far-right Vox party gains first regional parliamentary seats
Comments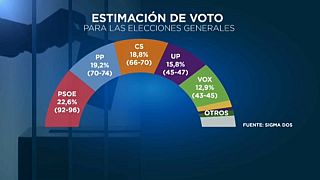 A meteoric rise for Spain's far-right Vox party, which for the first time managed to gain regional parliamentary seats in elections that took place at the end of 2018 in Andalucía, Spain's most populous region in the southern part of the country.
The head of the far-right party Santiago Abascal saw for the first time in a national poll his party not only securing entry into Spain's parliament but with 43 to 45 seats. Vox is the fifth power with 12.9%.
First are the Socialists, albeit with a reduced percentage of 22.6% and 92 to 96 seats, while the center-right People's Party is second with 19.2% and 70 to 74 seats. Third are Ciudadanos with 18.8% and 66 to 70 seats, while Podemos is fourth with 15.8% and 45 to 47 seats.
For the People's Party Pablo Casado views as a success the fact that his party has climbed again to second place from third position in corresponding polls six months earlier, but concerned about a decline in percentages. The decline of the Socialists of Prime Minister Pedro Sánchez is particularly large, also due to government fatigue.
Ciudadanos also records a significant decline, losing more than five percentage points since July. It appears that this, along with the People's Party, is where the far-right Vox party appears to be attracting voters in an unprecedented increase in its numbers.
Overall, all four main parties appear to be losing strength in relation to a corresponding poll six months earlier, including Pablo Iglesias' Podemos party which seems to have the smallest contraction compared to the other political parties.