Discussion: Is Spain's far-right on the rise? | Raw Politics
Comments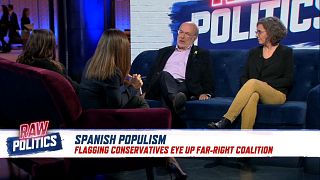 A far-right party has entered a regional parliament in Spain for the first time since the Franco dictatorship.
Vox took 12 seats in Andalucia's regional election on Sunday.
The Spanish Socialist Workers' Party (PSOE) won the poll with 33 of the 109 seats in the regional parliament. 
It is the first time PSOE's support has collapsed in the region since 1982.
Euronews' Spanish journalist, Ana Lazaro Bosch, said one of the reasons for the Vox's rise was the issue of Catalonia and fears of division.
However, the Spanish MEP, Josep Maria Terricabras, disagreed and said the election outcome was "something completely new".
With a national election scheduled for 2020, Terricabras said he did not believe far-right parties would make major gains, as the Basque and Catalan regions would not vote for a populist government.
The leader of France's far-right party National Rally, Marine Le Pen, welcomed Vox's result in a tweet, calling the party her friends.
Teresa Kuchler, European affairs correpsondent for the Swedish newspaper Svenska Bagbladet, said: "These kinds of parties feed off each other."
Watch the video above for the full discussion.