25-year-old man detained under Mental Health Act over Manchester stabbings
Comments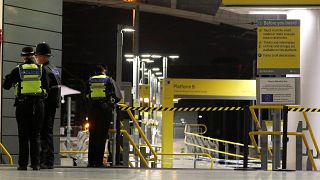 A 25-year-old man suspected of stabbing three people at a train station in northern England on New Year's Eve has been detained under the Mental Health Act, while a counter-terrorism investigation into the incident remains ongoing, police said.
Three people, including a police officer, were injured in the attack at Manchester's Victoria train station shortly before 9pm GMT (10pm CET) on Monday.
A man was arrested that evening and questioned on suspicion of attempted murder.
In a statement on Tuesday evening, Manchester Greater Police said the suspect was assessed by specialist medical staff before being detained under the Mental Health Act.
"The Counter Terrorism investigation remains ongoing," it said.
"There is nothing to suggest the involvement of other people in this attack, but confirming this remains a main priority for the investigation."
The statement added that the search of an address in the Cheetham Hill area of the city was continuing.
An officer injured in the attack spoke about his experience in a statement issued by the British Transport Police.
Sergeant Lee Valentine and three other officers were first at the scene said they had "no idea" what they were "running towards."
"The past 48 hours have been overwhelming. My team and I are grateful to everyone who sent in messages of support – it really does mean the world to us," he said.
"We had no idea what we were running towards when we heard the screams on New Year's Eve. When we saw the man wielding a knife, instinct took over and we were able to, in company with Travel Safe Officers from Metrolink, successfully detain the male."
A woman and a man, both in their 50s, were taken to hospital with knife injuries following the attack. They were in a serious but not life-threatening condition, police said.
A British Transport Police officer also receiving treatment for a stab wound was released from hospital on Tuesday.
Earlier on Tuesday, Chief Constable Ian Hopkins said investigations by counter-terrorism officers with support from Greater Manchester Police would continue "to ensure we get the full facts of what happened and why it took place."
The name of the suspect has not yet been released.
Speaking on Tuesday, Manchester Mayor Andy Burnham condemned the attack.
"Last night's incident at Victoria Station was a vile attack on families seeking to enjoy a peaceful New Year. We're all thinking today of the couple who were injured and of course the police sergeant as well," he said.
British Prime Minister Theresa May said her thoughts were with those who were injured, as she thanked the emergency services for their "courageous response".