UK to spend €118 million on extra ferries in case of no-deal Brexit
Comments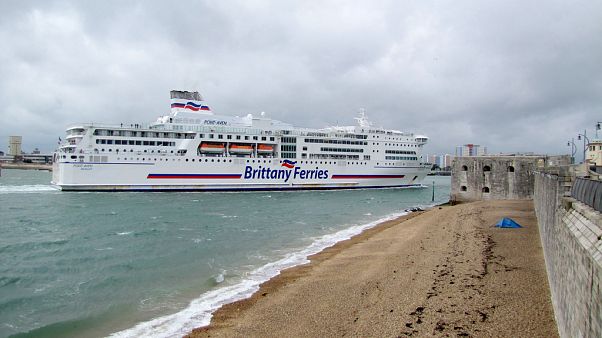 The UK will spend more than €118 million to charter extra ferries in the event of a no-deal Brexit to ensure vital goods continue to enter the country.
The contracts, awarded to France's Brittany Ferries, Denmark's DFDS and Britain's Seaborne Freight, plan for an extra 3,700 lorries a week to travel between the UK and the continent in the event the UK leaves the European Union on March 29, 2019, without a deal in place.
This extra capacity — equivalent to 10% of the existing Dover Strait traffic — will be provided on a variety of routes to ease pressure on the port of Dover. These additional ferries will also travel in and out of the southern port cities of Poole, Portsmouth, Plymouth and Felixstowe as well as Immingham, in the north-east of England.
"This extra capacity is a small but important element of the Department for Transport's no-deal Brexit planning," a spokesperson told Euronews.
"While remaining committed to working to ensure a deal is reached successfully, the Department is helping ensure the rest of Government are fully prepared for a range of scenarios, including a particular focus on a potential no deal and to mitigate the impact of any Brexit outcome on all transport modes," the spokesperson added.
'Extreme urgency'
The contracts are worth 47.2 million pounds (€52.3 million) for DFDS, 46.6 million pounds (€51.7 million) for Brittany Ferries and 13.8 million pounds (€15.3 million) for Seaborne Freight.
Under EU regulation, governments must put out a tender process for transport services if their value exceeds €443,000 but Britain bypassed the system to award these contracts.
"A situation of extreme urgency exists in the context of UK-EU roll-on-roll-off ferry capacity by virtue of the UK leaving the EU on March 29, 2019, and the prospect that this exit may be on a no-deal basis," the government wrote in the contracts.
It listed "the possibility of severe congestion at and around UK ports" due to "increased border checks by European Union Member States" as one of the reasons for not putting out a tender.
'Complete madness'
For Gus Tugendhat, founder of Tussell, a data provider on public procurement, "this provides further evidence of the last-minute rush to implement Brexit no-deal contingency planning."
"With time so short, it appears that normal tendering procedures couldn't be followed," he added.
The opposition Liberal Democrats Party, which backs a second referendum on the country's EU membership, has described the government's announcement as "complete madness."
"The government (has) the power to stop No Deal at any time but instead is spending millions on last minute contracts," it added in a tweet.