Russia widens ban on Ukrainian products due to 'unfriendly acts by Kiev'
Comments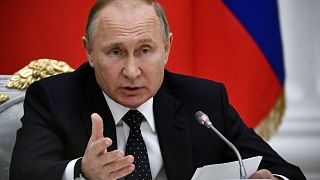 Russia has banned chocolate, beer and nappies made in Ukraine, in its latest economic sanctions on Kiev.
Ukrainian wheat, sunflower oil, bread, jam and wine were also barred, the Russian government announced on Saturday.
Moscow said the latest sanctions on the imported products had been imposed due to "unfriendly acts by Ukraine."
"Ukraine periodically imposes sanctions against both Russian individuals and legal entities, and for specific Russian goods," a Russian government statement said.
"Since the introduction of measures to ban imports from Russia of certain types of agricultural products, the Ukrainian sanctions list has been expanded to 18 types of products," it added.
Russia-Ukraine relations deteriorated after the 2014 toppling of pro-Russian leader Viktor Yanukovych.
Russia annexed the Crimean Peninsula from Ukraine between February and March 2014, which led to accusations of war crimes from Kiev.
READ: Crimea crisis: What is happening between Ukraine and Russia? | Euronews Answers
More recently, in November, Moscow fired on and seized three Ukrainian gunboats in a naval clash in the Sea of Azov.
The European Union described the move as "a gross violation of international law and of the territorial integrity of Ukraine."
Some 75 Ukranian companies and 567 individuals have been targetted by Russian economic sanctions, including about 250 people and businesses added on Tuesday.
Russia's Economy Ministry said that the value of Ukrainian goods included in the updated ban was estimated at around $510 million in 2018.
Kiev has also put measures in place against Russia such as the blocking of Russian internet services and social media.
On 30 November, Ukraine banned the entry of Russian men aged 16-60 to prevent the forming of "private armies" on Ukranian soil.
Kiev filed a complaint with the World Trade Organisation in a challenge to Russian sanctions on its goods.