Watch: Budget battle as scuffles erupt in Italian parliament
Comments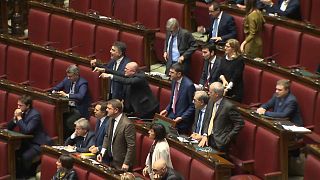 A session in the Italian parliament's lower house was marred by scuffles between MPs over the 2019 budget bill.
The disagreements during the discussion eventually led 5-Star Movement's Roberto Fico, who is president of the chamber, to suspend the session.
Opposition complaints that the budget was being forced through without enough time for consideration did not stop it passing the Senate.
It came as Prime Minister of Italy Giuseppe Conte delivered Italian government's traditional year-end press conference.
The premier denied Italy's new budget was dictated by the European Commission, saying he remained unyielding on the inclusion of points like a basic job-seekers' allowance.
"It is not that Brussels made us rewrite the budget, he told reporters. "That is erroneous. It is the budget we always wanted."
His administration has been embroiled in a months-long battle with Brussels over the budget, which the Commission initially rejected.
The new draft lowers the budget deficit to 2.04% of GDP from the current 2.4% of GDP, adding new taxes, such as those on web-based businesses and schemes to drum up revenue, like selling government properties.